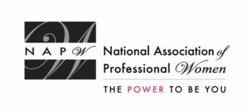 We are honored to be recognized as one of the 100 best websites for women.
Garden City, NY (PRWEB) August 22, 2013
The National Association of Professional Women (NAPW) landed a spot on Forbes List of 100 Best Websites For Women, 2013. The list was compiled with input over the last year from Forbes staffers, contributors and ForbesWoman readers. NAPW is among a prestigious compilation of websites geared exclusively toward women. Websites that made the cut this year had to not only have content that was informative and compelling, but "smart design, engaged communities and a voice that speaks to the female reader." The sites, Forbes said, "need to make us smile, make us think but most importantly make us share." As described by Forbes, this year's list is "the best list ever."
"We are honored to be recognized as one of the 100 best websites for women," said NAPW National Spokesperson and Chief Development Officer Star Jones. "The purpose of our site is to provide our more than 500,000 members with the information and resources they need to succeed both personally and professionally. This recognition validates our hard work and unwavering commitment to our members."
In its description of NAPW, Forbes states, "This national resource and network of business women provides seminars, podcasts, webinars, speakers, and educational tools to foster skills that help its members to achieve personal and career success."
NAPW impacts its members' futures. As America's most inclusive network – containing nearly half a million professional women meeting both online and through almost 400 Local Chapters nationwide – NAPW provides the platform for its members to interact, inspire and support one another personally and professionally. For additional information regarding NAPW, please visit http://www.napw.com.