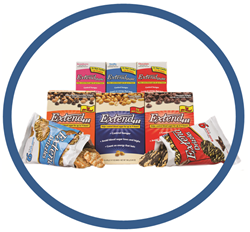 (The) bars are literally a life-saver, giving me back the sleep and energy to enjoy life and the activities I've been missing out on.
St. Louis, Mo. (PRWEB) November 01, 2013
November is National Diabetes Month, and Extend Nutrition continues to combat the diabetes epidemic with a potent combination of lifesaving snacks, diabetes education and outreach programs.
What makes the snacks "life-saving"?
They help prevent severe low blood sugar while people with diabetes sleep. Severe low blood sugar (called nighttime hypoglycemia) can sometimes lead to death, a tragic outcome known as "dead in bed syndrome".
The peace of mind that comes from avoiding low blood sugar episodes is not lost on Judy Hensley; she trusts Extend Nutrition snacks to help her husband sleep safely through the night.
"I have been his caretaker for almost 20 years, and Extend Bars have enabled me to get more rest at night due to no more night sweats, confusion and anxiety that go along with low blood sugar," Hensley wrote to the company this year. "I consider them a blessing from God, and my husband loves them."
Mr. and Mrs. Hensley are not the only people grateful for the benefits of Extend Nutrition. Each person below granted permission to share their stories in hopes of inspiring others:
"I have been struggling with hypoglycemia at night that has disrupted my sleep leaving me fatigued and sleep deprived for YEARS. I ate the Extend Bar before bed and for the first time in six years I was able to sleep through the night... Your bars are literally a life-saver, giving me back the sleep and energy to enjoy life and the activities I've been missing out on." – Renee Field, Virginia
"Extend Bars have been my life-savers for the past couple years. Before using Extend Bars I was having nighttime lows no matter what I ate before I went to bed... Since using them at bedtime, I have not had another low blood sugar at night. It's nice to go to bed at night without worrying about low blood sugar." - Mrs. Alvin M. Heussner, Iowa
These are just some of the voices and stories among the 26 million Americans living with diabetes (8.3 percent of the U.S. population.)
The Mayo Clinic defines diabetes as a group of diseases that affect how your body uses blood glucose, commonly called blood sugar. Diabetes is usually a lifelong disease in which there are high levels of sugar in the blood.
In addition, 79 million Americans have pre-diabetes, elevated blood sugar levels that are the precursor to type 2 diabetes.
"The key to staying well with diabetes – both type 1 and type 2 – is simple: control blood sugar," Dr. Francine Kaufman, MD, states in her best-selling book Diabesity.
"Medication alone can't maintain strict sugar control. It's critical for people with either type of diabetes to follow a nutrition plan, to get regular physical exercise and to maintain a healthy weight."
To help people with diabetes meet these goals, Kaufman found a unique way to make healthier snacks - starting in her very own kitchen.
Extend Nutrition is made with real food ingredients – lean protein, healthy fats and complex, low-glycemic carbohydrates that convert slowly to blood sugar.
The result is 17 flavors that include a variety of bars, crunchy snacks, and shake mixes.
Beyond snacks, Extend Nutrition hits the street to reach tens of thousands of diabetics nationwide through local events.
Extend Nutrition will be on the move throughout November (National Diabetes Month):
-November 8th, American Diabetes Association Expo in Pittsburgh, PA
-November 14th, World Diabetes Day (worldwide event)
-November 23rd, TCOYD Conference in San Diego, CA
To date in 2013, Extend Nutrition has been to more than 20 major cities:
New York, Los Angeles, Miami, Chicago, Denver, Tucson, Salt Lake City, Santa Clara, Seattle, Portland, Savannah, San Antonio, Chicago, San Jose, Philadelphia, Minneapolis, Houston, Albuquerque, San Diego and St. Louis.
The company was also a supporter of the ADA's "Step Out to Stop Diabetes" charity walk held at Creve Coeur Lake in Maryland Heights, MO on October 12th, 2013.
Extend Nutrition aims to help people with diabetes live healthier and happier lives by providing a convenient snacking solution; and it's paying off.
"I really think that without Extend Nutrition, especially the bars, I would find life a lot more difficult," wrote Linda Surminsky.
+ + +
Invented by Dr. Francine Kaufman, former President of the American Diabetes Association, Extend Nutrition Bars, Shakes, Crisps and Drizzles are made with a patented formula that is clinically-proven to help control blood sugar for up to 9 hours.
Blood sugar control is the key to both diabetes and weight management. Extend Nutrition snacks have been enthusiastically recommended by thousands of certified diabetes educators and registered dietitians around the world for over 10 years.
Extend Nutrition products are now available at more than 25,000 retailers nationwide, including your local Walgreens, CVS, Target, Walmart, Kmart and other leading retailers where diabetes nutrition products are sold.
Extend Nutrition strives to provide families with simple nutritional solutions that deliver peace of mind and confidence resulting in a healthier and happier lifestyle.