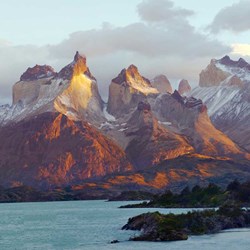 Custom Trips for Travelers, Not Tourists.
Minneapolis, Minnesota (PRWEB) October 16, 2013
Knowmad Adventures, a leading travel company in custom and private travel to South America, is hand-crafting more than just itineraries these days. Recently released, their new website – http://www.KnowmadAdventures.com - was built from the ground up to give the user an experience not wholly unlike a journey to another country. The new design displays over 70 pages of written content with more than 1,000 photos in a concise, vibrant and intuitive layout.
While the old saying "form follows functions" holds true in the navigation and structure of the site, the design is energetic and fresh – a rarity in branding within the travel operator world. "I was so bored with the stuffy color palettes and high-browed logos that were popular with agencies when we were starting out," says Tara Harvey. Before the Harveys launched their company in 2009, beginning with Chile vacations in Patagonia, Tara studied Art History and Design working in the industry as a freelancer with small businesses. When designing Knowmad's brand identity she sought to convey the sense of excitement and adventure that she felt in South America, while creating a clean and concise platform to make the process of planning travel less overwhelming. The vivid photos and highly saturated color palette achieve this in combination with the linear graphic elements and Helvetica typeface.
The challenge in creating their new website lay in how to incorporate nearly ten times the amount of content into a site that was easy to navigate, calming and at the same time inspiring. They demonstrated how they put "the know in Knowmad" with an extensive FAQs section and also added pages with traveler reviews & photos, press, the team's bios, and an expanded blog. One of their main goals with all the added content was to improve their search engine optimization, but they were adamant about it not taking away from the users' experience. "Planning a trip to South America can be confusing," says Tara. "There are a lot of options to choose from, a lot of forums out there with conflicting opinions, almost too much information. Our goal at Knowmad is to make that process easy and part of the adventure. To convey this on our site, which serves more or less as our storefront, seemed contradictory to all the information we needed to include. I believed the solution was in the design."
"We really focused on letting the destinations speak for themselves," says Jordan Harvey, Co-Founder and Travel Specialist at Knowmad and recently named to Travel and Leisure's A-List for his expertise in trip planning to Chile, Argentina and Peru. The website displays photo banners on every page with brilliant images from Ecuador & the Galapagos Islands, Peru & Machu Picchu, and Chile & Patagonia. Since Knowmad Adventures specializes in working with the travelers to create a unique itinerary that's just right for them, the trips that are published on the site are considered ideas or jumping off points to plan the trip of a lifetime. Viewers can browse the site by destination or by their travel style – ie. a page dedicated to family vacations in South America will display trip ideas that are active, but accessible and resonate with a range of ages. A "design your trip" button urges travelers to be specific about their preferences. Do they like archeology or trekking or both? Do they prefer boutique hotels or more remote lodge stays? Born of the idea that travel is a unique expression of independence, liberation, and curiosity, Knowmad works with independent-minded travelers looking for unique and authentic journeys that are exceptionally well planned. They take out the stress, not the adventure.
Contact Knowmad Adventures at 1-877-616-8747 / http://www.KnowmadAdventures.com