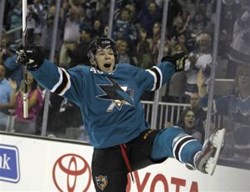 (PRWEB) October 13, 2013
Hockey fans around the country are now raving about one of the league's youngest and most skilled players. On October 8th, 2013, Tomas Hertl of the San Jose Sharks became the youngest player since 1988 to score 4 goals in a game. The 17th overall draft pick in 2012 and 19 year old from Czech Republic led his team to a 9-2 victory over the New York Rangers Tuesday night. With the four goals, Hertl also tied a franchise record, and in just his third NHL game.
Not only did Hertl do all of the above in Tuesday night's game, but he did so while displaying extreme talent and skill. After already scoring a hat trick against the Rangers, Hertl decided to make his fourth goal number one on Sports Center's top ten plays worthy. While flying past the goal, Hertl place his puck between his leg, and sent a trick shot flying over Rangers' goalie Martin Biron. The video of the goal got the number one stop in Sports Center's top ten plays, and went viral, with YouTube videos of play receiving over 100,000 views in less than 24 hours. This was the first time Hertl scored more than two or three goals in a game, and saving it four his NHL career debut was not a bad decision. To purchase Sharks tickets and watch Tomas Hertl become a legend, visit http://www.Ticketmonster.com.
Although the hockey season has just begun, there are some undefeated teams that are looking sharp. Tomas Hertl and the Sharks are one of those teams, boasting a 3-0 record. Other non-loss teams include the Colorado Avalanche, the St. Louis Blues, the Pittsburgh Penguins, the NY Islanders, the Boston bruins, and last year's Stanley Cup winner the Chicago Blackhawks.
The 2014 Stanley Cup playoffs will begin on April 16th. The cup is the end goal for all 30 teams, and is in result one of the United State's sports best sellers. Single game playoff tickets will eventually go on sale by the team's participating, available to the general public, but this option is very pricey. A fan looking to go to a playoff game or Stanley Cup have the better option of finding tickets through http://www.Ticketmonster.com. Prices for standing room only can start at almost $300, or thousands of dollars for front row seats. Stanley Cup tickets available at Ticket Monster are the cheapest, and best valued tickets on the web. Customers that visit Ticket Monster can also enjoy an active blog, social media hub, and easy read schedule. Purchase your tickets today at Ticket Monster to find your NHL hockey tickets and enjoy a game in the 2013-2014 hockey season.