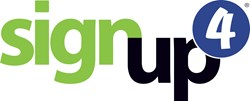 Atlanta, GA (PRWEB) October 15, 2013
SignUp4, the innovative meetings management software provider, announces its new National Sales Office (NSO) system and dashboard. This system allows the meeting planner to send an RFP to selected NSO(s). The NSO can then use the new NSO dashboard to select multiple vendors of their choosing for which they would like to send the RFP. They can search the SignUp4 vendor database for potential prospects or create their own vendor. Once the NSO has received responses from their vendor selections, they can then recommend to the planner their preferences which have responded and would best fit the needs of the RFP requirements. The planner can then choose to award or not award the RFP to the recommended vendors.
Within the dashboard, planners can measure the performance of NSOs that have been used throughout the RFP process and pull performance reports creating a new level of visibility. With this direct connection and improved communication of terms and conditions, planners will be afforded the opportunity to leverage their negotiations, build upon their vendor relationships and drive business to the teams who understand the their meeting and event parameters.
"Planners work with those vendors who understand their terms and conditions and strive to earn their business. With our new NSO system, they have the opportunity to strengthen these relationships and choose from vendors recommended by their NSO partners," said Kiley Reynolds, Applications Development Manager at SignUp4. "We strive to simplify the RFP process for both the planner and the vendor by streamlining processes and reducing workloads. This dashboard will be the RFP powerhouse planners have been waiting for."
The NSO system is now available within SignUp4's Spend Management System. Visit SignUp4 at IMEX America in Las Vegas at booth #3156 to learn more.
About SignUp4
SignUp4 is the innovative meetings intelligence provider offering the highest quality strategic meetings management solutions with an affordable unlimited usage model. The goal of SignUp4′s meetings intelligence suite is to streamline workflows, simplify and drive registrations, efficiently manage travel logistics, improve communications, and provide visibility into meeting spend for leveraging contract negotiations and increasing ROI. With over a decade of experience, 3,500 users and over 80 of the Fortune 500, we understand the value of your time and events. Learn more at http://www.signup4.com follow us @SignUp4.