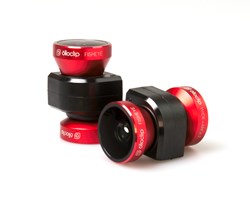 We are pleased with the opportunity to showcase MailPix quality products with this free brag book offer to olloclip.com customers.-- Fred H. Lerner, CEO and founder
Huntington Beach, Calif. (PRWEB) December 10, 2013
MailPix.com, the photo-printing and gifting site, has partnered with olloclip®, maker of high-quality lens accessories for smartphones, to offer a free 4x6 MailPix photo brag book (plus $2.99 shipping) with any purchase on http://www.olloclip.com/mailpix/.
The perfect holiday gift, olloclip iPhone and iPod touch photo lenses make it easy for users to get the most of out of their photos and videos, especially when they're on the go. It takes mobile photography further than ever.
Weighing less than an ounce, olloclip lenses offer multiple lens options in one convenient package that's lightweight and compact enough to fit in a pocket as well as a Christmas stocking.
And now, Mailpix makes it fun and easy to share olloclip photos — and to add photos and text and create a mini portfolio in a complementary brag book.
"olloclip lenses make great smartphone photos even better," says Fred H. Lerner, CEO and founder, MailPix. "We are pleased with the opportunity to showcase MailPix quality products with this brag book offer to olloclip.com customers."
The latest olloclip 4-IN-1 Lens provides four additional creative options in less than one ounce -- fisheye, wide-angle, and now two macro lens on each end (a 10x in 15x magnification), available for $70.
The olloclip Telephoto Lens for iPhone and iPod touch users delivers 2x optical magnification so they can get twice as close to what they're capturing. The Circular Polarizing Lens (included) helps reduce reflections and makes colors truer to life — available for only $100.
olloclip products can be purchased at http://www.olloclip.com/mailpix/.
ABOUT OLLOCLIP
The olloclip® brand is synonymous with creativity in one's pocket — olloclip products give amateur and professional photographers alike the ability to use the iPhone to capture and share what was previously impossible — easily, spontaneously and artistically. With olloclip, a mobile phone becomes a window to the world, and mobile photography/videography enters a whole new realm of possibility. For more information about olloclip, visit olloclip.com.
olloclip® is a registered trademark. © 2013 olloclip. All rights reserved. Featured photography and the content within are the property of respective owners. olloclip Registered Community Design Numbers 001312359-0001, 001312359-0002, 001312359-0003, 001312359-0004, 002199992-0001, 002199992-0005. U.S. Patent No. 8,279,544 and D678379. U.S. and foreign patents pending. iPhone 5/4/4S and iPod are trademarks of Apple Inc.
ABOUT MAILPIX.COM
MailPix.com is the pre-eminent site for preserving photo memories as photo books, prints, cards, enlargements and other products. Everyone now has a pocket-size camera with priceless memories. MailPix's passion is to make it easy to upload, share and print your photos…with free storage for life.
MailPix is seamlessly integrated to print your or your friends' 240 billion-plus Facebook and Instagram photos…and photos from any device, computer or phone.
Fred H. Lerner is the founder and CEO and is Fred's latest startup. He previously founded Ritz Interactive, which included RitzCamera.com, WolfCamera.com and others. Fred also founded two imaging companies that were acquired by Kodak and became the CEO of Kodak Processing Labs. He is a Hall of Fame recipient at the United Nations' International Photographic Council and Past President of the Photo Marketing Association International. Peter Tahmin, joined as co-founder and COO, MailPix.com, and was former vice president, Ritz Camera and Image, and SVP and COO of Ritz Interactive. The MailPix board of advisors includes Oscar B. (Bud) Marx III, Chairman of Gentherm, former President and General Manager, Ford of Mexico and CFO and Ford, Europe; William A. Roskin, Board Member of Martha Stewart Living Omnimedia, Inc. , former Executive Vice President of Viacom, Inc.; Ted McGrath, former President of Fujifilm, USA and General Manager of Kodak's Consumer Imaging Division; James Joaquin, former president and CEO of Ofoto, leading that company from its start through the successful acquisition by Kodak; and Gary Pageau, of InfoCircle and former Publisher, Content Development and Strategic Initiatives at Photo Marketing Association International (PMAI).