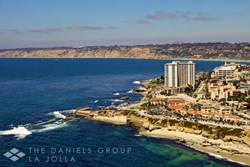 The theme of this year's Open Door is the "Scripps Connection."
La Jolla, CA (PRWEB) October 31, 2013
Open Doors is a local La Jolla event where guests can view the period architecture and tour many of its historic institutions. This open-style event is being held on Sunday, November 3, from 11:30am to 2:00pm and is a collaboration between Cultural Zone organizations, including the Museum of Contemporary Art San Diego, the La Jolla Historical Society, the Women's Club, Cuvier Club, The Bishop's School, St. James by-the-Sea, the Bed & Breakfast Inn at La Jolla and the La Jolla Recreation Center.
The local tour is a fantastic way for people to see buildings that the public doesn't always have access to. They can also explore La Jolla's cultural heritage and historic architecture.
One of the main attractions at Open Door in La Jolla will be an exhibition titled "Scripps on Prospect". This La Jolla attraction will be co-hosted by The Museum of Contemporary Art San Diego and the La Jolla Historical Society at the museum at 700 Prospect Street in Axline Court.
This collaboration explores the historical evolution of The Museum of Contemporary Art San Diego, which was once the original Ellen Browning Scripps' residence. Designed by Irving Gill, this La Jolla building and the surrounding structures have remained cultural and educational landmarks. This La Jolla event highlights the long and enduring history of each one.
"The idea here is almost to think about the cultural zone as a museum and put the institutions and the architecture that is unique to the Cultural Zone on display free to the public for this particular day," said Heath Fox, executive director of La Jolla Historical Society.
The theme of this year's Open Door is the "Scripps Connection." That theme will be showcased by the joint "Scripps on Prospect" exhibition in La Jolla.
"We're showing the evolution of the villa and cottage, which became MCASD and Wisteria Cottage, tracing the history through photographs, architectural drawings and other documents celebrating the cultural zone here in La Jolla and the history and architecture of this place," said Fox.
Guests of this La Jolla event will also be able to visit St. James by-the-Sea Episcopal Church. There will be two in-house architects on hand for this La Jolla event, discussing the renovation project currently going on, as well as beautiful organ demonstrations.
Come explore the city of La Jolla at their fun local Open Doors event!