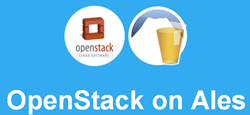 We look forward to a great experience being had by all attendees.
Bend, OR (PRWEB) September 03, 2013
The first annual OpenStack on Ales (OSOA) Conference will be held in Bend, OR at McMenamins - Old St. Francis School. Professional software developers and operators will be covering topics that are important to the OpenStack community and to individuals who are responsible for building and implementing cloud computing platforms. The speaker line up includes influential members of the OpenStack community including Clark Boylan, John Mark Walker, Dr. Nic Williams, and eight additional presenters.
Organizers Coby Randquist, Josh Sullivan, and Mark Turner (The Guys) have turned their focus to OpenStack and expect this event to provide a place where strong interactions and deep relationships can be formed between members of the community. Since 2011, The Guys have organized the Ruby on Ales Conference that is held each March in Bend, OR. "We formed this (OSOA) conference out of the desire to bring together members of the OpenStack community in a smaller, more intimate setting than what is available today," said Coby Randquist, "We look forward to a great experience being had by all attendees."
The event can accommodate about 130 attendees and will provide two days of intense focus on topics related to OpenStack Cloud Software and to those involved in implementing and operating it. In order to provide an intimate experience for attendees, corporate sponsorhips are not being accepted for the first annual event.
Please check the OpenStack on Ales website for the full agenda and to register.
Event Date & Location
September 30 - October 1, 2013
McMenamins Old St. Francis School
700 NW Bond Street
Bend, OR 97701
Follow on Twitter @openstackonales