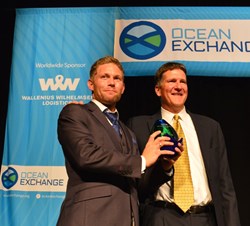 The appeal of this solution is how it combines an environmental benefit with a commercial incentive.
Savannah, USA/Oslo, Norway (PRWEB UK) 4 October 2013
Advancing a commercially viable shipping and logistics solution for increased sustainability through zero-emissions, transport on land and at sea, the WWL Orcelle® Award of 2013 and $100,000 has been awarded to ECOsubsea and their ecological way of underwater hull cleaning.
ECOsubsea has developed technology that allows ship owners to clean their vessels in an environmentally responsible way while in port and conducting cargo operations. The ECOsubsea hull-cleaning system meets the key challenges that include: high collection rate of biofouling debris; preservation of vessel coating during cleaning; and safer operation through greatly reducing the need for divers.
Christopher Connor, President and CEO Wallenius Wilhelmsen Logistics of Norway, congratulated the winner saying, "The appeal of this solution is how it combines an environmental benefit with a commercial incentive."
This year's $100,000 Gulfstream Navigator Award 2013 was given to WITT Energy Harvesting Transmission Collecting Power from All Sea Motion by WITT Limited: The device takes natural energy, which is produced by the movement of water, wind, humans, animals or vehicles, and converts it into usable energy.
This solution best reflects the goals of The Gulfstream Navigator Award: applicability across multiple industries to generate a positive impact on the economy and the environment.
"We congratulate WITT Limited, winner of this year's Gulfstream Navigator award," said Joe Lombardo, executive vice president, Aerospace Group, General Dynamics, parent company of Gulfstream Aerospace. "WITT's energy-harvesting solution will significantly contribute to increased energy production from renewable resources. Additionally, it has a wide range of applications, from small personal appliances to large-scale marine renewable energy. We're excited about this product's environmental potential."
These solutions reduce the use of nature's resources and waste and increase productivity and economic well being.
About the Ocean Exchange
Founded in 2010, The Ocean Exchange is the intersection where organizations from around the world advance and promote their cutting edge solutions and innovations in materials, devices, processes, and systems. We have created the knowledge-based catalyst for organizations to achieve their Corporate Social Responsibility Goals. By connecting innovators and organizations, The Ocean Exchange empowers the successful application of solutions for the greater good.
We are advocates for innovators. We are advocates for collaboration across industry and geography, while protecting the intellectual property of the innovator. For more information go to http://www.oceanexchange.org.
About Wallenius Wilhelmsen Logistics
Wallenius Wilhelmsen Logistics delivers innovative and sustainable global shipping and logistics solutions for manufacturers of cars, trucks, heavy equipment and specialized cargo. The company also specializes in handling complex project cargoes such as rail cars, power generators, mining equipment and yachts. WWL's sophisticated supply chain management services ensure an efficient integration of ocean transportation, inland distribution, terminal handling and a comprehensive range of specialized technical services. For more information, please visit http://www.2wglobal.com.
About Gulfstream Aerospace Corporation
Gulfstream Aerospace Corporation, a wholly owned subsidiary of General Dynamics, designs, develops, manufactures, markets, services and supports the world's most technologically advanced business-jet aircraft. Gulfstream has produced more than 2,100 aircraft for customers around the world since 1958. To meet the diverse transportation needs of the future, Gulfstream offers a comprehensive fleet of aircraft, comprising the wide-cabin, high-speed Gulfstream G150®; the new large-cabin, mid-range Gulfstream G280®; the large-cabin, long-range Gulfstream G450®; the large-cabin, ultra-long-range Gulfstream G550® and the ultra-large-cabin, ultra-long-range G650®. Gulfstream also offers aircraft ownership services via Gulfstream Pre-Owned Aircraft Sales®. The company employs more than 13,500 people at 12 major locations. We invite you to visit our website for more information and photos of Gulfstream aircraft at http://www.gulfstream.com.