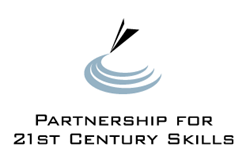 'Creativity, Collaboration, Communication, and Critical Thinking have never been more important for the future of our students,' said Stephan Turnipseed, new P21 Chair.
Washington, DC (PRWEB) September 10, 2013
The Partnership for 21st Century Skills (P21), the leading national organization advocating for 21st century readiness for all students, has announced the election of Stephan Turnipseed, president of LEGO Education North America, as the new strategic council and executive board chair for the 2013-2014 academic year. Turnipseed follows Frank Gallagher, executive director for Cable in the Classroom.
Dr. Liz Fogel, director of education for the Walt Disney Company was elected vice-chair, Dzana Homan, chief operating officer of Goddard Systems, Inc. will continue on as treasurer, and Rob Lippincott, senior vice president for education strategy & partnerships at PBS, P21's newest member, will be the new secretary.
"I look forward to leading P21's efforts to ensure 21st century readiness remains a priority within the education reform movement. Creativity, Collaboration, Communication, and Critical Thinking have never been more important for the future of our students," said Stephan Turnipseed upon accepting the Chairmanship.
"P21 understands the critical importance of preparing students for success in the 21st Century, and I am proud to join their leadership team," said Rob Lippincott. "I look forward to being an advocate for P21 and their efforts to empower today's generation of students."
P21 is proud to continue its collaborative work to engage leaders in education, business, and policy, as well as the 19 partnership states to help prepare students to lead and succeed in 21st century work, life, and citizenship.
About P21: P21 is a national organization that advocates for 21st century readiness for every student. As the United States continues to compete in a global economy that demands innovation, P21 and its members provide tools and resources to help the U.S. education system keep up by fusing the 3Rs and 4Cs (critical thinking and problem solving, communication, collaboration and creativity and innovation). While leading districts and schools are already doing this (see the P21 Exemplar Program) P21 advocates for local, state and federal policies that support this approach for every school.
P21 Members: Amplify, Apple Inc., Cable in the Classroom, Cengage Learning, The College Board, Common Sense Media, Crayola, Destination Imagination, EdLeader21, EF Education, Education Networks of America, Follett, Ford Motor Company Fund, Goddard Systems Inc., Intel Corporation, JP - Inspiring Knowledge, LEGO Education, National Board for Professional Teaching Standards, National Education Association, PBS, Pearson Foundation, Project Management Institute Educational Foundation, The Walt Disney Company, U.S. Fund for UNICEF, and VIF International Education.
P21 Leadership States: Arizona, California, Illinois, Iowa, Kansas, Kentucky, Louisiana, Maine, Massachusetts, Nevada, New Jersey, North Carolina, Ohio, Oklahoma, South Carolina, South Dakota, Vermont, Wisconsin and West Virginia.