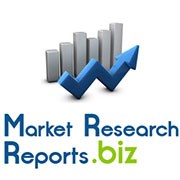 (PRWEB) August 13, 2013
Global demand for paint and coatings has grown steadily over the last decade. The increase in demand was mainly due to the continuing recovery of global economy and rapid industrialization. The paints and coatings sector depends heavily on the end-user industries it serves and positive growth is expected in most of those segments. Increasing demand from end-user industries such as steel, automotive, furniture and construction is driving the market.
To check out the table of contents, visit: http://www.marketresearchreports.biz/analysis-details/global-paints-and-coatings-market-report-2013-edition .
Architectural coatings segment dominates the overall market followed by protective marine and general industrial coatings. Industrial coatings are expected to witness a higher growth rate compared to other segments due to the increasing number of industrial activities in various regions.
The key trends observed within the industry include increasing demand for paints with functional benefits. There are certain challenges which the industry is facing as of now which mainly includes environmental rules and regulations and threats of substitutes. The major factors which will contribute in the growth of the industry include increase in vehicle production, growth in global construction spending, increasing urbanization and growing global economy.
Browse All The Report Of This Publisher Visit: http://www.marketresearchreports.biz/publisher/24 .
The present report offers a comprehensive analysis of the worldwide paints and coatings market with a special focus on the regional markets including Asia which includes India and China, Americas which includes the US, Canada, South America, Latin America and Mexico and South Africa. The competition in the global paints and coatings market is intense with few large players viz. AkzoNobel NV, PPG Industries, Sherwin Williams and Valspar. In addition, competitive landscape in Asia, North America, Latin America and Europe along with the company profiles of the leading players in the market is discussed in detail.
Browse All Reports of This Category Visit - http://www.marketresearchreports.biz/category/57 .
By combining SPSS Inc.'s data integration and analysis capabilities with our relevant findings, we have predicted the future growth of the industry. We employed various significant variables that have an impact on this industry and created regression models with SPSS Base to determine the future direction of the industry. Before deploying the regression model, the relationship between several independent or predictor variables and the dependent variable was analyzed using standard SPSS output, including charts, tables and tests.
To Buy The Copy of This Report Visit: http://www.marketresearchreports.biz/analysis/170980 .
Table of Content
1. Overview
1.1 Procedures of Paint Markets
1.2 Applications of Paints
2. Global Paints and Coatings Market
Market Value
Market Segmentation
Geographical Breakdown
2.1 Decorative Paints
2.2 Performance Coatings
3. Regional Markets
3.1 Asia
3.1.1 India
Market Value
Market Segmentation
Decorative & Industrial
Geographical Breakdown
3.1.2 China
Market Overview
Consumption Growth
Market Segmentation
Decorative Market
3.2 Americas
3.2.1 The United States
Market Value
Market Volume
Market Segmentation
3.2.2 Canada
Total Shipments
Imports & Exports
Market Segmentation
3.2.3 South America
Market Overview
Market Segmentation
3.2.4 Latin America
Market Segmentation
Decorative Market
Geographical Breakdown
3.2.5 Mexico
Market Overview
Market Segmentation
3.3 Africa
3.3.1 South Africa
Market Volume
Market Segmentation
4. Market Dynamics
4.1 Growth Drivers
4.1.1 Increase in Vehicle Production
4.1.2 Growth in Global Construction Spending
4.1.3 Increasing Urbanization
4.1.4 Growing Global Economy
4.2 Trends & Developments
4.2.1 Increasing Demand for Paints with Functional Benefits
4.3 Challenges
4.3.1 Environmental Rules and Regulations
4.3.2 Threats of Substitutes
About Us
MarketResearchReports.Biz is the most comprehensive collection of market research reports. MarketResearchReports.Biz services are especially designed to save time and money of our clients. We are a one stop solution for all your research needs, our main offerings are syndicated research reports, custom research, subscription access and consulting services. We serve all sizes and types of companies spanning across various industries.
Contact
M/s Sheela
90 Sate Street, Suite 700
Albany, NY 12207
Tel: +1-518-618-1030
USA – Canada Toll Free: 866-997-4948
Email: sales(at)marketresearchreports(dot)biz
Website: http://www.marketresearchreports.biz/
Blog: http://chinamarketreports.blogspot.com/
Blog: http://mrrbizmintel.blogspot.com/