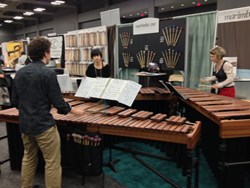 Arcata, CA (PRWEB) November 03, 2013
Among the more unusual percussion instruments is the marimba, resembling an oversize xylophone. Its keyboard is made of Honduras Rosewood, a wood from Central America so famed for its tonal quality that it is called "The Wood That Sings."
The marimba has grown rapidly in popularity and is now found in hundreds of symphonies and concert halls around the world.
Marimba One, premier maker of concert marimbas, will have 10 artists present at the tradeshow in their booth 300 as well as on stage, giving a unique opportunity to hear the dark, rich, warm sound of the marimba. Marimba One artists' concert schedule is as follows:
Thursday November 14
9 a.m.-10 a.m. Matthew Coley playing with Jamal Mohamed and John Kizilarmut
2 p.m.-3 p.m. Chain Trio (Shoko Sakai, Conrado Moya, Arkadiusz Katny)
8:15 p.m. - 9:30 p.m. Maraca2 (Tim Palmer, Jason Huxtable), with guest appearance by Ivana Bilic and Ronni Kot Wenzell
Friday November 15
1 p.m.-2 p.m. Eriko Daimo
The tradeshow ends Saturday November 16 . PASIC 2014 will take place November 19–22 again in Indianapolis, Indiana.