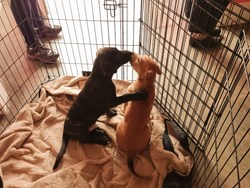 Our local shelters and rescue groups do so much amazing work to not only rescue these animals, but also rehabilitate them and provide much need treatments, and then find them great new forever homes. We want to help as much as we can and do our part.
Houston, Texas (PRWEB) October 31, 2013
Adoption events with various local animal shelters and rescues are hosted several times a month at Funny Fur's River Oaks pet boutique and pet supplies store. Funny Fur also seeks out smaller rescue groups with limited funding to help increase their visibility, get more funding support, and provide a venue for potential adopters to meet & greet with pets up for adoption. Local pet lovers can meet rescued pets in-store and learn more about the benefits of rescuing a pet.
Funny Fur also hosts several charity parties each year to help raise greater awareness and much needed funds for the benefiting rescue organization. Funny Fur's most recent Howl-O-Ween Party featured a Halloween themed fashion show, pet costume contest and other pet themed activities with all donations benefiting Friends For Life pet rescue.
Funny Fur actively supports many local Houston organizations, such as Houston SPCA, Citizens for Animal Protection, Friends For Life, Pup Squad Animal Rescue, Save A Cat Rescue, The Houston Humane Society, Special Pals, K-9 Angels Rescue and more.
Please visit Funny Fur's website (http://www.funnyfur.com), store Facebook page, or subscribe to their store newsletter for a full schedule of upcoming events.
About Funny Fur
Funny Fur is a premier pet supply store and boutique specializing in designer dog clothes, dog carriers, and other pet accessories for discriminating pet parents. Funny Fur also offers a great selection of all natural and holistic pet foods and treats, raw pet food, and all natural solutions for general household and pet care products. Funny Fur contributes to local animal rescues and other non-profit organizations dedicated to the wellness of animals.