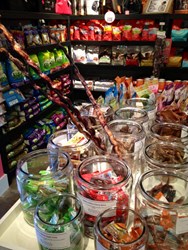 Houston, Texas (PRWEB) October 31, 2013
Funny Fur focuses on all natural pet care, which includes offering all natural and holistic pet nutrition, care products, and household solutions. Increasing customer awareness to the various products available provides them with different options as well as educating them to make more informed purchases for their pets.
Funny Fur listens to customers' concerns, whether relating to their pet's nutrition, care or health issues, and then recommends top brands and products available to offer product demonstrations.
Customers can look forward to learning more about a brand or product while receiving individual consultations and recommendations for their pets' needs.
Pet food demonstrations spotlight the specific pet food, educate customers on how to shop for pet food, and help answer their pet nutrition questions. Customers whose pets have specific issues like sensitive stomach, allergies, or other conditions can get more insight on specific ingredients to look for or avoid.
Pet household product spotlights focus on solution based products and how they work to remedy the issue. Customers can receive individual consultations on solutions to best meet their pets' needs.
Please visit the Funny Fur River Oaks Facebook page or subscribe to their local Houston store newsletter for a schedule of upcoming events.
About Funny Fur
Funny Fur is a premier pet supply store and boutique specializing in designer dog clothes, dog carriers, and other pet accessories for discriminating pet parents. Funny Fur also offers a great selection of all natural and holistic pet foods and treats, raw pet food, and all natural solutions for general household and pet care products. Funny Fur contributes to local animal rescues and other non-profit organizations dedicated to the wellness of animals.