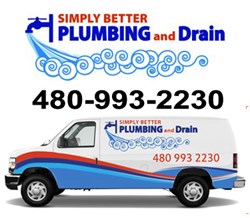 We apply the Golden Rule to you!
Phoenix, AZ (PRWEB) October 30, 2013
A homeowner is already hurting and apprehensive because of a plumbing surprise that requires immediate attention, don't they all. From a homeowner's own experience and those of friends, many have; Paid high dollars for "Free estimates", because they refused to "cave in" to the $2,000+ work order; Many have been "hustled" into paying $1,500+ for a water heater that others paid $500 for. Some have been ripped off by "plumbers" who were really "con men and salesmen" in disguise.
Now, the homeowner may be really concerned and a little afraid that history is going to repeat itself. Well, we have good news and a great announcement:
A Plumbing Firm in Phoenix Offers "Old School" Honesty and Quality without the Hustle.
When a firm seeks to apply the "Golden Rule" to their clients, they find they too are winners because they gain clients and friends for the long run. Yes, they kiss goodbye any short-run big profits, but greedy guys always fail in the long-run. Many of the Phoenix Plumbers have changed their company names several times to escape their own failures and bad press.
Phoenix area folks may have found their permanent friend in the plumbing business when they call Don Paz at Simply Better Plumbing and Drain. Don shared with me many "horror stories" of area people that fell prey to these shady schemes. Don does his best to "mop up" after the con artists have left the scene. Don states "It is easy to fix their plumbing to top condition, but it's a tough job to heal lost confidence in plumbing service people.
One suggestion after interviewing Don is this; "Why not talk Don Paz for your plumbing needs?" There is no need to go down that sad road broken plumbing – broken promises. See more at http://www.simplybetterplumbinganddrain.com/
Don further states "There will not be a charge for an estimate, they are free if the homeowner decides to hire us or not. Experience tells us all that this is outside the norm in the Greater Phoenix Area. So lets apply the Golden Rule here and treat our clients the same way we want to be treated. Full honesty about your plumbing needs and our abilities to fix them. Complete reliability in our work and appointments with you. And finally, offering you a reasonable rate for all of this."
Client's are amazed with Don Paz.
Author Greg Schipper
Simply Better Plumbing and Drain
Owner: Don Paz
Serving Greater Phoenix and Scottsdale, AZ
Tel: 480-993-2230
Website: http://www.simplybetterplumbinganddrain.com/
New Video http://youtu.be/Zp-L_MMBw_E
Google Hangout http://www.youtube.com/embed/3CLWsuedLI4