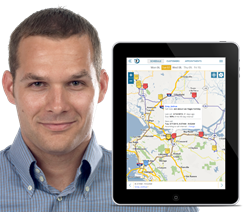 portatour® can reduce mileage by 25% while ensuring that call frequencies are met – a sustainable benefit for the environment and for sales reps on the road.
Vienna, Austria (PRWEB) August 26, 2013
Every year, field sales staff in the USA cover 50 billion miles to reach their customers. The new portatour® app provides automatic itinerary planning to cut unnecessary travel. It can reduce mileage by 25% while ensuring that call frequencies are met. A free trial of portatour® is available now at http://www.portatour.com.
"How can I optimize my daily schedule of visits?" – that's the question over 2 million field sales staff in the USA ask themselves. They spend up to 70% of their working hours traveling, resulting in high costs and environmental impact from CO2 emissions. Route optimization is the oldest problem since the advent of field sales and better journey planning would bring sustainable benefits for the environment, employees and companies. An additional problem is that the dynamic nature of field sales quickly makes long-term schedules useless, due to factors such as traffic jams, visits lasting longer than expected, absent customers or unplanned calls. That's exactly where portatour® comes into play.
How portatour® works
The fully automated sales call scheduling software is available as web-app. It imports existing customer data from a CRM or other sources. At the press of a button, portatour® combines fixed appointments with proposed visits to generate an optimized route plan, all within seconds. What's more, portatour® automatically looks after maintaining the desired frequency of visits to customers according to their priority.
Access on the go
Good news for field sales staff who like to travel light: they can leave the laptop at home. From now on, all needed for route planning is a smartphone or a tablet. portatour® converts every Internet-compatible device into a mobile real-time travel planner. It reacts to schedule changes and altered appointment times at the press of a button. Along with route planning, portatour® provides mobile access to customer data and schedule data, with integrated visit reporting as a supplementary feature.
portatour®: boost the efficiency of field sales
portatour® is a route planning app that benefits field reps and companies in equal measure. The field sales force is spared the effort of visit planning before and during their tours. Companies increase the number of customer contacts while reducing travel mileage and CO2 emissions. The tangible benefits add up right from the start.
Works with Outlook, Dynamics CRM and Salesforce
portatour® can also be used in combination with Microsoft Outlook, Microsoft Dynamics CRM and Salesforce. For other CRM and ERP systems, a data connector is available.
Testers and partners welcome
Interested companies can sign up now at http://www.portatour.com for a free trial of the portatour® route planner with full functional scope. Inquiries from resellers and integration partners are welcome in the interest of realizing the high international market potential.
About impactit GmbH
impactit GmbH is a software development company in Vienna, Europe. We deliver outstanding mobile solutions for sales reps, consulting, services, medical & pharma, and more industries since 1999. Our main product is portatour® – your personal sales-route planner. In 2009, we won the Microsoft Innovation Award. Our founder and CEO is DI Matthias Grünberger.
portatour is a registered trademark of impactit GmbH.
Microsoft Outlook and Microsoft Dynamics are trademarks of Microsoft Corporation. Salesforce is a trademark of salesforce.com, inc.
(prwpt) Images and Screenshots are available at http://www.portatour.com/presse/.