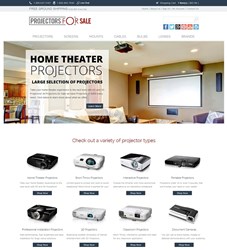 "Just like our other e-commerce sites, we will make Projectorsforsale.com the most in-depth online projector resource available, providing ease of use, competitive pricing and unparalleled customer support."
(PRWEB) November 19, 2013
AlltecStores Inc., a leading provider of audio-visual and technology products, announced recently the acquisition of the domain Projectorsforsale.com. The newly launched website will join the chain of already flourishing e-commerce websites with specific product focus on Projectors, Screens and their associated accessories.
AlltecStores Inc. launched the Projectorsforsale.com domain in order to deliver the web's premier destination for Projection products, news, reviews and more.
As an authorized dealer for many of the most prominent projector brands, such as Epson, Canon, Optoma, Casio, BenQ, Sharp, Eiki, Panasonic, Sony and more. Projectorsforsale.com will provide customers with the latest projection technology, the most popular projector screens, mounting solutions, cables, lenses and replacement projection lamps. Projectorsforsale.com features a detailed attribute filter, in-depth reviews and comparisons of different projector types and brands; simplifying the decision-making process for both the knowledgeable installer, as well as the novice home theater enthusiast.
AlltecStores Inc. has already been selling Projectors on their e-commerce websites, but noticed the extreme lack of accurate information available online. "We were getting many phone calls and emails from customers completely confused by the massive amount of projectors available, their individual benefits and the installation process. We wanted to create a site to provide our customers with the most accurate information possible so they can make the right decision the first time around," Olivier Jammaers, the company's eCommerce Merchandising Manager stated. "Just like our other e-commerce sites, we will make Projectorsforsale.com the most in-depth online projector resource available, providing ease of use, competitive pricing and unparalleled customer support."
Unique features of the site include an extensive product catalog, a highly detailed attribute filtering system, an interactive bulb selector and a team of sales professionals with over 25 years' experience in the audio/visual industry. Utilizing many of the latest technologies, Projectorsforsale.com utilizes HTML5 and CSS3 to create a clean, modern site. Developed on the AmeriCommerce platform, the Alltec Stores team can internally manage products, leads and all other site content.
Alltec Stores was born from of over 150 years of combined experience in the world of Electronics, Audio/Visual and presentation equipment. Since the 1964, our company has been a leader in the A/V equipment market for professionals as well as educators. Through the Alltec Stores network we bring our expertise in these areas and more to the public. Each one of our websites is backed by experienced sales and support staff to give you the best possible shopping experience. Over 40 years of repeat and referral business is a testament to the strength of our customer service as well as customer loyalty.
The AlltecStores network consists of several specialty, e-tail websites focusing on audio-visual and technology products. It's main website, AlltecStores.com is parent to several others e-commerce sites, including Projectorsforsale.com, Headphones.com, ProjectorScreenStore.com, AllCartStore.com, PodiumAndLecternStore.com, AllWhiteboards.com and more. Manufacturers interested in having their products sold on Projectorsforsale.com should contact info(at)projectorsforsale(dot)com.