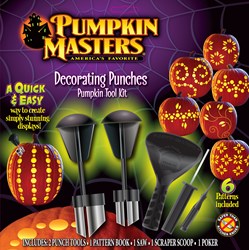 Safer than kitchen knives and other household tools, Pumpkin Masters carving kits provide an easier and protected experience to help avoid carving injuries.
Ocala, FL (PRWEB) September 30, 2013
This fall, carve a work of art with new Decorating Punches Pumpkin Tool Kit and Xtreme Strobe Flashing LED Light Kit from Pumpkin Masters®, America's trusted Halloween brand. Unlike kitchen knives and candles, Pumpkin Masters products provide a safe carving experience, and with carving patterns, tools and different lighting effects, there's something for the whole family. Pumpkin Masters kits offer the perfect, budget-friendly activity for the fall and can be found nationwide at CVS, Walmart and Target, as well as local and regional grocery, craft and supply stores.
•Perfect for creating lantern-style pumpkins with decorative shapes and designs, the Decorating Punches Pumpkin Tool Kit ($7.99) helps create on-trend designs with minimal effort. With multiple punch tools to push all the way through the pumpkin shell the kit also comes with a variety of other necessities including patterns to makes it easy to construct artful, non-traditional designs this Halloween.
•Battery-operated lights are not only safer, but can be used to achieve lighting effects not available with a candle, including multicolor and strobe settings. Xtreme Strobe Flashing LED Light Kits ($4.99), available in white and multicolored lights, include four bright LEDs for maximum lighting on those dark fall nights. Utilizing LED Lights, your pumpkin will last longer without the heat generated from traditional candles so they can be enjoyed throughout the Halloween season.
•For those looking to avoid the mess of hollowing out a pumpkin, the Surface Carving Kit offers unique, non-traditional, shallow-level designs and drawings. This pumpkin carving technique is cleaner and allows your pumpkins to last longer.
•Pumpkin Masters has partnered with the Breast Cancer Research Foundation (BCRF) for its annual Carving for a Cause initiative. During Breast Cancer Awareness Month in October, Pumpkin Masters will donate one dollar for each virtually shared carved pumpkin; donations will be made for up to 25 thousand dollars. Virtually share a pumpkin through the Pumpkin Masters Official Carving App available in the Apple App Store.
•Safer than kitchen knives and other household tools, Pumpkin Masters carving kits provide an easier and protected experience to help avoid carving injuries. Check out these safety tips from the experts at Pumpkin Masters including the benefits of sawing rather than slicing to avoid slipping.
From pumpkin carving patterns to Halloween-inspired recipes, the Pumpkin Masters Web site is the ultimate Halloween destination. Get inspiration and all the tools necessary for a carving party, including pattern ideas and instructional videos. For more information, visit http://www.pumpkinmasters.com.
About Pumpkin Masters
Pumpkin Masters® is the creator of the world's first pumpkin carving kit that makes it easy to create intricate, decorative pumpkin designs. Since its introduction, the Pumpkin Masters carving kit has changed the way millions of Americans celebrate Halloween.
Today, Pumpkin Masters continues the tradition of innovation with a full product line including carving tools, lighting, decorations, trick-or-treat accessories, and more. We are deeply committed to upholding our reputation as America's Trusted Halloween Brand.