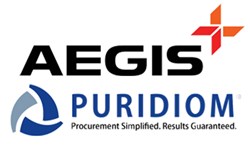 These services, combined with a full range of complementary Spend Management Services, deliver a comprehensive all-in-one procure-to-pay solution for Puridiom clients.
Mechanicsburg, PA (PRWEB) January 02, 2014
Aegis Limited, a global outsourcing and technology services company , and Puridiom, Procure-to-Pay solution provider, announced their partnership today to expand the footprint of the Puridiom Procure-to-Pay solution with transaction processing services, including Accounts Payable invoice processing and Spend Management Services, including spend analytics, category management, PO processing, payment automation and Supply Chain Services.
Aegis has more than three decades of leadership in delivering Customer Lifecycle Management solutions for over 300 clients across verticals such as BFSI, Telecom, Healthcare, Travel and Hospitality, Consumer Goods, Retail, and Technology. Aegis provides a suite of outsourcing and technology solutions for its clients, from strategy and design to implementation and execution.
The outsourcing and business transformation expertise of Aegis enhances the Puridiom offering of all of the components required by customers to fully automate and tightly integrate the procure-to-pay workflow, including invoice processing. "Puridiom seamlessly receives and matches both paper and electronic invoice data from our client's vendors," says Jesus Ramos, President and CEO of Puridiom. "This allows not only a low variable cost per transaction but also full visibility to invoices and status, accurate and timely payment, capture of payment discounts, accurate accruals and ledger entries and direct linkage, if desired, to the Puridiom bank card payment program." These services, combined with a full range of complementary Spend Management Services, deliver a comprehensive all-in-one procure-to-pay solution for Puridiom clients.
For clients unfamiliar with automated invoice programs, the Puridiom supplier enablement service provides a low cost way to "go paperless." In most cases, Puridiom clients have virtually eliminated invoice handling by Accounts Payable staff, allowing Finance departments to focus resources on higher value activities.
Leveraging Aegis' domain expertise and global presence across 56 locations, 13 countries and six continents, Puridiom will continue to grow this partnership to deliver better levels of efficiency and expand into new areas of the global marketplace.
About Puridiom
Puridiom, a recognized leader in the Supply Chain, offers innovative technology solutions, industry-specific strategies, and best practice expertise to achieve best-in-class results. During the past 30 years, Puridiom has successfully transformed procurement and accounts payable operations and delivered real savings, control, compliance, and accountability to spend activity. Puridiom serves many global organizations within diverse industries, including energy, insurance, financial, entertainment, government, healthcare, and non-profit. Solutions and services include stand-alone modules, a comprehensive procure-to-pay suite, cloud / SaaS and on-premise deployment platforms, and business process outsourcing options. Discover real savings and learn more at our website.
About Aegis
Aegis is a global outsourcing and technology company committed to impacting clients' business outcomes by focusing on enhancing customer experience across all touch points and channels. Aegis was founded 30 years ago in the US and now has operations in 56 locations across 13 countries with more than 55,000 employees. Aegis services over 300 clients from verticals such as Banking and Financial Services, Insurance, Technology, Telecom, Healthcare, Travel & Hospitality, Consumer Goods, Retail, and Energy & Utilities. The company is wholly owned by Essar, a USD 39 billion conglomerate. For more information, write to us at info(at)aegisglobal(dot)com or visit http://www.aegisglobal.com.