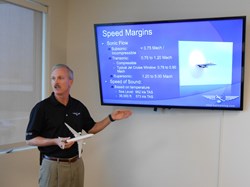 The Master Instructor accreditation singles out the best that the right seat has to offer.
Arlington, Texas (PRWEB) August 30, 2013
Aviation Performance Solutions, LLC is very pleased to announce that Randall 'Random' Brooks has earned his Master CFI – Aerobatic accreditation. A full time instructor with Aviation Performance Solutions (dba APS Emergency Maneuver Training) based in Arlington, Texas, Randall specializes in spin and recovery training as well as formation aerobatics. Mr. Brooks was accredited as a Master CFI-Aerobatic (Certificated Flight Instructor-Aerobatic) by Master Instructors LLC, the international accrediting authority for the Master Instructor designation as well as the FAA-approved Master Instructor Program. Additionally, he is one of five (5) MCFI-As teaching with APS. With Randall's accreditation, APS now holds the world record in the most active Master CFI-Aerobatic instructors working for any one organization.
To help put these achievements in their proper perspective, there are approximately 97,000 CFIs in the United States. Fewer than 800 of those aviation educators have achieved that professional distinction thus far. The last 18 national Flight Instructors of the Year were Master CFIs (see: http://www.GeneralAviationAwards.org/) while Randall Brooks is one of only 43 Texas aviation educators to earn this prestigious "Master" title and one of only 32 worldwide to earn aerobatic accreditation.
In the words of former FAA Administrator Marion Blakey, "The Master Instructor accreditation singles out the best that the right seat has to offer."
The Master Instructor designation is a national accreditation recognized by the FAA. Candidates must demonstrate an ongoing commitment to excellence, professional growth, and service to the aviation community, and must pass a rigorous evaluation by a peer Board of Review. The process parallels the continuing education regimen used by other professionals to enhance their knowledge base while increasing their professionalism. Designees are recognized as outstanding aviation educators for not only their excellence in teaching, but for their engagement in the continuous process of learning — both their own, and their students'. The designation must be renewed biennially and significantly surpasses the FAA requirements for renewal of the candidate's flight instructor certificate.
ABOUT AVIATION PERFORMANCE SOLUTIONS (APS) IN ARIZONA
Aviation Performance Solutions (APS) with headquarters located at the Phoenix-Mesa Gateway Airport (Mesa, Arizona), has trained thousands of pilots in fully comprehensive upset recovery skill development, more than any other training organization. For over 17 years, with additional training centers in Dallas (Texas USA) and The Netherlands (Europe), APS has been committed to giving professional pilots and private pilots of all skill levels the highest quality upset prevention and recovery training available. APS offers comprehensive loss of control in-flight solutions via industry-leading web-based, on-aircraft, and full-flight simulator upset training programs. APS is the only Part 141 Flight School currently certified in the delivery of complete upset recovery, stall / spin and instrument recovery training courses worldwide. APS upset recovery training courses are all in compliance with the Airplane Upset Recovery Training Aid – Revision 2 and the recently released FAA Aviation Circular 120-109 on Stall and Stick Pusher Training. http://www.apstraining.com