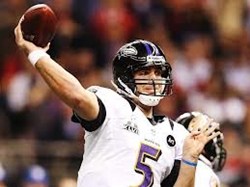 Baltimore, Maryland (PRWEB) August 12, 2013
On Thursday, August 8, 2013, the Baltimore Ravens crushed the Tampa Bay Buccaneers on the road in their first preseason game of 2013. The Ravens cruised to victory, as the final score read 44-16. In the victory, the Ravens played tough and physical, and clearly came out to win. They came out on the field looking like a team that wants to win another Super Bowl. And if they go through the season playing like they did Thursday night, that vision just might be possible to achieve. 2013 Super Bowl MVP Joe Flacco came out looking sharp in his 2013 season debut, and the rest of the team followed suit. Although a very different team and lineup from the Super Bowl winning team, they still came out looking as strong as ever. The Ravens gave Flacco a break in the game, and put in backup quarterback Tyrod Taylor. Taylor threw for two touchdown passes, including one to third-string player LaQuan Williams. Williams had a breakout game for the Ravens, as he had two catches for 32 yards, including the 21-yard touchdown pass from Taylor. Other plays from Williams included recovering a fumble early in the second quarter, and then grabbed a loose ball in the Buccaneers end zone later in that same quarter. While Williams has been an afterthought in previous seasons, with multiple injuries this year and his standout performance from Thursday night, he just might have a chance to start in the regular season.
Rookies Arthur Brown and Brandon Williams played well in their first NFL game. Brown did not play for very long, but did not mess up enough to count him out. Standout rookies of the night included Rickey Wagner and Kyle Juszczyk. Wagner entered the game at left tackle and held his own, while Juszczyk was used in multiple positions all over the field. He caught two passes and lined up in the slot more than once. The rookies that played well proved a lot, and are all fighting for a starting position on the team. The Ravens next preseason game will be played on on August 15th against the Atlanta Falcons. Tickets for the season are selling fast, so visit http://www.Ravenstickets.com.
To watch these three rookies and more help out the Ravens in 2013, visit http://www.Ravenstickets.com. Here customers can find the best Baltimore Ravens Tickets at the lowest prices on the web, as well as an easy checkout system. Fans can also use the social media fan hub to stay connected and engaged with their friends and other Ravens fans.