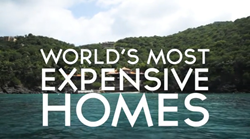 It is an honor being nominated as a finalist alongside some of the largest agencies in the world. - Steve Gatena, CEO, REP Interactive
New York City, NY (PRWEB) October 01, 2013
The episodic series was originally written, produced, and showcased as a homework assignment by Steve Gatena during his final year at the University of Southern California in 2010. After pitching his idea to Coldwell Banker Real Estate's executive team, REP Interactive and Coldwell Banker's media staff green lit the project in 2011 and released their first episode, Casa Casuarina formerly known as Gianni Versace's Mansion in 2012.
Since 2010, Coldwell Banker Real Estate and REP Interactive have been revolutionizing the Real Estate industry, changing the way media is used, produced, and distributed. REP Interactive's high energy production style and innovative use of visual effects has impacted broadcast television shows featuring real estate often seen on networks like HGTV, NBC, and TRAVEL CHANNEL. Coldwell Banker Real Estate's branded content series Most Expensive Homes in the World is the perfect example of how brands and agencies like REP Interactive are leading the digital space by producing content that engages and entertains their target audiences.
REP Interactive has been selected for two separate Mashies, including "Best Branded Content Series" as well as the Prestigious "Rising Star" category, which is part of the "Best Overall" section of the Awards Ceremony. The Mashies is an award show that celebrates the best in digital content across marketing, advertising, and social media. Winners represent the best work of the most respected advertising agencies, production companies, television stations, cable operators, and corporate video departments in the world. The winners will be featured on Mashable.com, and honored at the awards ceremony in the Altman Building in New York City.
A prestigious judging panel of 9 of the most influential industry professionals will be deciding the winners of the competition. These Judges include: the National Geographic Channel's CMO, Corteney Monroe; Ad Age's 2013 "40 Under 40" selection & 3601's President, Sarah Hofstetter; CEO of Kaplow Communications, Liz Kaplow; Executive Creative Director for BBDO New York, Tom Markham; CEO of The Barbarian Group, Benjamin Palmer; CEO of Deep Focus, Ian Schafer; CEO of Huge, Aaron Shapiro; CTO of Razorfish, Ray Velez; as well as one of Advertising Age's "Most Influential Women in Advertising," Linda Kaplan Thaler.
These judges were carefully selected to represent the most experienced and knowledgeable leaders in digital across marketing, advertising, social media, design and business. All entries were screened by the judging committee and then narrowed down to three finalists from each category. During the final round of judging, one winner from each award category will be selected based a set list of criteria by the official judges. The winners will be announced at the awards ceremony on October 10th, 2013.
"It is truly an honor being nominated as a finalist alongside some of the largest agencies in the world. When we began this agency, it was designed for Coldwell Banker Real Estate as a homework assignment at USC's Annenberg School for Communication and the Marshall School of Business Lloyd Greif Center for Entrepreneurial Studies. Because of Coldwell Banker Real Estate's progressive approach to technology and media, we were fortunate early on and upon graduation in 2010, we were able to make an immediate impact for the world's number one real estate brand. Being able to generate high quality content for our brand partners like Coldwell Banker Real Estate, and being recognized as one of the best corporate video agencies in the country is what keeps us innovating. Awards and nominations like this are always an honor, thank you," said Steve Gatena, CEO of REP Interactive.
Fortune 500 Companies trust REP Interactive to produce award winning Video & Broadcast Media solutions. REP Interactive is the premiere video agency of choice for companies looking to create video assets that increase revenue, decrease expenses, and achieve communication goals.
To find out more about REP Interactive, visit http://www.repinteractive.com and for more information on The Mashies, visit their website at http://mashable.com/mashies/. To watch the entire "World's Most Expensive Homes" series, go to http://www.youtube.com/coldwellbanker.
About REP Interactive
REP Interactive is an award winning Video & Broadcast Media Agency. REP empowers businesses with video & broadcast media solutions that increase revenue, decrease expenses, and achieve communication goals. Since 2011, clients like Coldwell Banker, Marriott Hotels, and GE Healthcare have relied on REP Interactive for their ability to create innovative solutions to corporate communication problems.
Please contact Chris Carter, REP Interactive for inquiries: Chris at repinteractive (dot) com or call 888-789-1299.