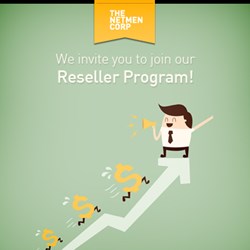 This program will offer people the possibility of starting their own design or marketing business online.
(PRWEB) November 06, 2013
The NetMen Corp is proud to announce the launch of its new reseller program. "This program will offer people the possibility of starting their own design or marketing business online. We've been providing high-quality design services for years, so launching this program as a stand-alone product is a very natural progression for our business," said Fernanda Estevez, The NetMen Corp Marketing & Sales Director. The NetMen Corp is an experienced design agency with over 10 years in the industry. From creating logos to stationery and web design, The NetMen Corp is able to provide the visual design work that any small business needs.
By providing reseller plans The NetMen Corp hopes to allow new entrepreneurs to enter the market. This program is also a great option for existing marketing and PR agencies that would like to expand design offerings without the added risk of hiring new in-house talent. New entrepreneurs can benefit from the fact that The NetMen Corp can provide a microsite and portfolio as a part of this service. This simplifies the process of starting the business by helping the entrepreneur create a professional brand for their company.
As an independent reseller, clients will have the opportunity to provide high quality design work without doing any of the creative in-house. Individuals simply need to manage the client side of the business. With experienced designers The NetMen Corp most commonly develops creative logos, mascots, illustrations, print design and even packaging. This wide range of services and customizable packages allows resellers to give each client exactly what they are looking for.
The NetMen Corp will work directly with resellers to ensure a streamlined process for all parties involved. With starter packages that include a microsite and client logo designs starting at less than $200, The NetMen Corp offers an affordable option for all services.
---
The NetMen Corp is a professional design company that is comprised of business, marketing and graphic design experts who deliver innovative and eye-catching designs to globally positioned firms. Their mission is to deliver 110% customer satisfaction in corporate image and design, and to go the extra distance to ensure completed projects exceed the clients' expectations.