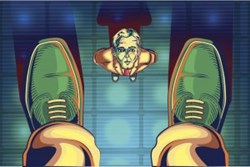 Communication on health reform: Employers think they're doing it right; employees seem to differ.
New York, NY (PRWEB) September 26, 2013
For two critical reasons, employers should feel compelled to have an effective communication strategy in place to ensure employee understanding of health reform and the value of their employee benefits package.
I. To Close the Employer-Employee Perception Gap
The latest findings indicate that there's a perception gap among mid-market employers when it comes to communicating effectively about health reform and employee benefits: Employers think they're doing it right; employees seem to differ.
A sharp dichotomy surfaced in a January 2013 study conducted by Aflac among nearly 1,900 employers and 5,300 employers, where 64 percent of midsize employers said they believed they had effectively communicated the value of their health benefit plans to their employees.
Conversely, only 45 percent of employees said their employers' communication strategies were effective in educating them about their health benefit options, according to Aflac's 2013 WorkForces Report.*
What's more, with the rollout of key provisions of the Patient Protection and Affordable Care Act in less than six months, the Aflac survey discovered that 76 percent of employees at midsize firms expected their employers to guide them through health care coverage changes that might result from health reform law, while only 5 percent of midsize companies indicated that educating employees about the law was a priority.
II. To Maintain a Competitive Edge in Talent
Study results also tied strategic benefits communication with an employers' ability to attract and retain key talent, especially now in an increasingly competitive hiring market. Among employee respondents, 79 percent said a well-communicated employer benefits benefits program would make them less likely to leave their current positions—a sharp increase from 46 percent in 2012 and 42 percent in 2011, the Aflac report revealed.
Employees at elite organizations attracting top talent also indicated a preference for engaging in frequent and two-way benefits communication. Again, the study underscored that employers often make assumptions about what their workforce prefers when it comes to benefits, and also in their level of satisfaction with their benefits package. This was deemed to be a dangerous practice that can lead to wasteful investments and unhappy workers.
Employer best practices in this area indicated a greater likelihood to survey their workforce about their satisfaction, engagement and understanding of benefits, and they were 1.5 times more likely to communicate about benefits 3 to 10 times during the year, rather than once a year during benefits open enrollment. They were also more likely to tailor communications to generational preferences and different employee life-stages, and communicate benefits in the context of overall employee compensation.
Finally, survey results indicated that 79 percent of workers at least somewhat agree that a well-communicated benefits package would make them less likely to leave their job, a 35 percent increase over the 2012 Aflac WorkForces Report findings. Yet feedback from U.S. workers indicates that most companies' benefits communications and education programs are not where they need to be—65 percent of workers said their employer only communicates about benefits at open enrollment or new hire enrollment.
Tapping Lockton's Robust Communication Resources
Employers should understand the importance of supporting a robust communication platform related to health reform and benefits, and this is an area of expertise at Lockton. We've prepared ACA communication materials for a number of clients, so if you'd like to know more about how we can help you, please reach out to me via email at RRuotolo(at)Lockton(dot)com.
Sign up to receive free blog updates from RobRuotolo.com, a workforce benefits blog for HR Decision-makers, and download a free white paper on Using HR technology to ensure ACA Compliance: enter your email into the opt-in email subscribe box; your information will never be shared with third parties.
*The 2013 Aflac WorkForces Report is the 3rd annual Aflac employee benefits study examining benefit trends and attitudes. The study, conducted by Research Now between January 4 and January 24, 2013 captures responses from 1,884 benefits decision-makers and 5,299 employees across the U.S.