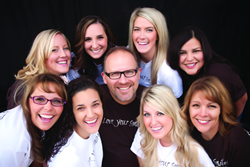 Everybody at your office is super and make me feel they want the best care for my health, especially dental health.
Roseville, CA (PRWEB) July 19, 2013
Not all dentists in Roseville CA have dedicated themselves to aesthetic dentistry in the way that Dr. Matthew Comfort has. He has taken the time and effort to complete the advanced training provided by the Pacific Aesthetic Continuum (PAC) to further show his already strong commitment to serving his patients. He wishes to guarantee his skills remain top notch and that all his patients are more than happy with their new smiles.
This Roseville Dentist says, "The Pacific Aesthetic Continuum is a continued learning program that gives dentists hands-on learning experience so they can master professional skills in the philosophy and learning of aesthetics in dentistry. I am so proud to complete this comprehensive course and provide my patients with state-of-the-art cosmetic dentistry." Dr. Matt, as his patients call him, knows it takes continued learning to do the best by his patients. He has been in private practice for 16 years and adds to his skills regularly.
The Pacific Aesthetic Continuum is one of the best continuing education programs in the country, offering premier and hands-on training with live patients. The courses take place in an intimate, boutique-like atmosphere and leading doctors teach the students how to hone in and develop their skills regarding the art and science of aesthetic dentistry. Doctors perform complete smile enhancement and makeover procedures with ceramic restorations implementing complex restorative procedures. A student may perform one procedure a total of ten separate times.
In our present day, having a lovely and healthy smile is important for everyone, from a student to a business person to a housewife. Roseville cosmetic dentistry can accomplish things never even dreamed of a few years earlier. Now, going to a cosmetic dentist for the creation of a beautiful smile is easy, painless, and relatively affordable.
For folks afraid of the processes of cosmetic dentistry they see on extreme makeover TV shows, Dr. Matt assures these apprehensive patients that the curriculum for establishing an aesthetic smile is well thought out and carefully and thoroughly planned. Smiles get damaged over time with trauma, regular wear, genetics and old dental work such as silver fillings. The doctor comments on one patient who came to him with damaged teeth and failing composites. Dr. Matt transformed Mike B.'s smile, and Mike left after completion exclaiming, "I love my teeth! I love my smile!" Both doctor and patient were smiling.
About Matt Comfort DDS: Matt Comfort DDS maintains his dental office in Roseville and serves the Central Valley area of California with professional pride. He graduated in 1997 from the University of the Pacific's Arthur A. Dugoni School of Dentistry in San Francisco, later taking part at the university as an adjunct professor and a course director with the international dental studies program. He has done extensive training to broaden his education, including specialized training and cosmetic training at the University of California, Los Angeles. He is a past member of the Board of Directors of the Sacramento District Dental Society as well as numerous other local and national dental organizations. His hand-picked office team supports his efforts and provides excellent service to all patients.
Contact: Matt Comfort DDS
Phone: 916-786-2010
Web site address: http://www.mattcomfortdds.com/