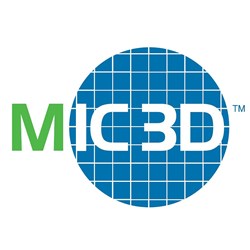 this is an impressive and practical breakthrough by MonolithIC 3D, providing a practical path for 3D IC
San Jose, CA (PRWEB) October 03, 2013
MonolithIC 3D Inc. the technology innovator of Monolithic 3D announced today that it was honored to give the 3D Plenary Talk of the IEEE SOI-3D-Subthreshold Microelectronics Technology Unified Conference. The event is scheduled for October 7th thru 10th, 2013 in Monterey, CA. MonolithIC 3D Inc. will be represented by Zvi Or-Bach, President and CEO. The conference will start with three plenary talks, one for each of the conference tracks. Zvi Or-Bach: "We are very pleased with the industry recognition associated with selecting MonolithIC 3D to give the 3D Plenary Talk. Our thanks to the organizing committee for their invitation, and gratified to see monolithic 3D technology is rapidly becoming part of the 3D IC field". The company's approach detailed in the 3D Plenary Talk in the first sessions on October 7th, 2013 will describe "Practical Process Flows for Monolithic 3D".
Zvi Or-Bach: "Monolithic 3D ICs provides a practical short term path to keep the semiconductor industry on track with Moore's Law as dimensional scaling is reaching its diminishing return phase. Monolithic 3D IC allows the existing industry infrastructure and silicon knowledge to be utilized while research activities continue the search for other alternatives. It should be mentioned that we are also honored to be giving a tutorial on monolithic 3D and the presentation: «Pulsed Laser Annealing: A scalable and practical technology for monolithic 3D IC» at the IEEE 3D System Integration Conference on Oct 2-4, 2013, in San Francisco. At the tutorial we plan to present the many significant additional benefits that are available with monolithic 3D IC".
In the 3D Plenary Talk Mr. Or-Bach will present three approaches to obtain 3D logic ICs:
RCAT – Process the high temperature on a generic structure prior to layer transfer , and finish with cold processes; i.e., etch & depositions.
Gate Replacement (Gate Last HKMG) – Process the high temperature on a repeating structure prior to layer transfer, and finish with 'gate replacement' cold processes.
Laser Annealing – Use short laser pulses to locally heat and anneal the top layer while protecting the interconnection layers below from the topside heat.
In addition, the company will also present at the poster session the thermal compatibility of laser annealing of newly built 3D structures with transistors and interconnect circuits lying beneath in "Thermal Considerations for Monolithic Integration of Three-Dimensional Integrated Circuits". This work was done in collaboration with the Department of Electrical Engineering, IIT-Bombay, India. The 2013 S3S Conference, as stated on their official website, is focused on two IEEE conferences, leading events in CMOS technology: The IEEE International SOI Conference and the IEEE Subthreshold Microelectronics Conference. In addition, this year 3D Integration is also being included with invited talks from world-renowned experts in 3D technology.
Horacio Mendez, Executive Director at SOI consortium said: "We see the 3D IC as important part of the industry future; this is an impressive and practical breakthrough by MonolithIC 3D, providing a practical path for 3D IC. We are very pleased to have Zvi Or-Bach for the opening 3D Plenary Talk for the 3D IC track of the conference. Especially since in monolithic 3D all upper transistor layers are naturally SOI transistors, it should add motivation for the adaption of SOI technology across board"
Join us at the 2013 S3S Conference held at Hyatt Regency Monterey Hotel and Spa, Monterey, California on October 7th thru 10th, 2013. You can access the conference technical program here.
About MonolithIC 3D Inc.
MonolithIC 3D Inc. has more than 90 issued and pending patents on the technology, design and architecture of monolithic 3D-ICs. The company has pioneered single crystal silicon based monolithic 3D-ICs for logic, memory and optoelectronic applications. Its business model involves licensing technology to existing semiconductor manufacturers. Further information about MonolithIC 3D Inc., including detailed technical information, can be found at its website.
###