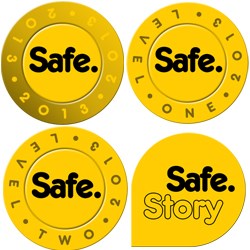 We find the Safe badges to be an excellent motivational tool. Pupils take a pride in being awarded their badges, and are highly incentivised to maintain a safe page in order to keep their online badge.
(PRWEB) October 13, 2013
Launched in 2011, Mozilla Open Badges are becoming a growing competitor to traditional qualifications. Anyone over 13 can earn digital badges and display them on other social networks and CV sites across the internet using Mozilla Open Badge technology.
DigitalMe have now created Open Badges (and digital badges for under 13s) for their free programme Safe - the certificate in Safe Social Networking that was funded by Nominet Trust. Young people aged 7-16 are led through activities by their teacher, allowing them to set up a secure and safe online profile.
DigitalMe hopes the badges will encourage young people to use social networks safely, as well as showing future employees the skills they have learned and demonstrating that they are a trusted digital citizen.
See the badges in action on real young people's web pages, such as this one: https://www.makewav.es/r/lightning23
The badges are awarded through the Safe network on Makewaves, the social learning platform for schools. Schools can create a school site for free and complete all the activities for Safe within Makewaves.
So far, over 5,000 students have earned their Safe Social Networking Certificate and they can store their achievements online via Open Badges.
Simon MacLean, a teacher from Preston Street Primary School has recently started awarding the Safe Badges "We find the Safe badges to be an excellent motivational tool. Pupils take a pride in being awarded their badges, and are highly incentivised to maintain a safe page in order to keep their online badge."
Start Awarding Safe Badges now http://www.makewav.es/safe
Media Enquiries:
Sally Molineaux Web Project Manager http://www.digitalme.co.uk
Tel: 0113 245 6445
hello(at)digitalme(dot)co(dot)uk