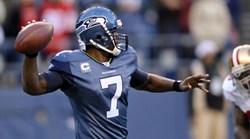 Seattle, Washington (PRWEB) August 11, 2013
On August 8, 2013, the Seattle Seahawks played the San Diego Chargers in their first preseason game of the 2013 season. The Seahawks won, as expected, in a 31-10 blowout. Even though these preseason games don't mean much, the Seahawks looked like a team worthy of their high expectations for this season. Quarterbacks Tavaris Jackson and Brady Quinn both threw for touchdown passes. The two are battling against each other to be Russell Wilson's number one backup player. From last night's performance, spectators can easily see what this team is about. They are an upbeat, energetic team that is extremely explosive in the offense and very solid in the defense. They come out to win, and to have a good time. Watching a Seahawks game in 2013 is going to be a highlight of the year, so buy your tickets at http://www.Seahawks-Tickets.org/.
Quarterback Tarvaris Jackson won seven games for the Seahawks back when he played as starting quarterback in 2011. He was then traded to Buffalo during the offseason last year when it became a reality that he would not be starting again. The Bills released Jackson earlier this year, and the Seahawks decided to resign him. Both Tarvaris and Quinn, who was also taken in by the Seahawks this year, had some nice plays in Thursday night's win. Starting quarterback Russell Wilson also had some playing time, as he is expected to be starting every game this season. The Seahawks are clearly deep in the quarterback position, and no matter who is on the field they seem to be able to get the job done. After Thursday night, however, it looks like the team may be heading toward Jackson for the second string position.
To watch a game at Century Link Field in 2013, grab your friends and visit http://www.Seahawks-Tickets.org. On the site, customers can find the best prices for Seahawks tickets, and in the easiest way. The two clicks to checkout process makes buying Seahawks tickets easy and fun. The customer service team is also highly qualified, and makes any issues you have no problem at all. Fans will never be charged for service fees, making the tickets extremely affordable. Visit the site today to buy tickets and use the Seahawks social media hub to stay connected and talk about your favorite team.