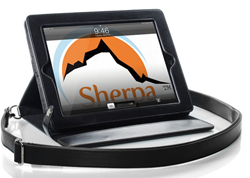 'A Lovely piece of craftsmanship.' - Al Roker
Charleston, SC (PRWEB) November 12, 2013
Said to be the most revolutionary tablet to date, the iPad Air is already quickly becoming a popular gift this holiday season. Much like the iPad Air makes consumers rethink tablets, the Sherpa Carry case for the iPad Air makes customers rethink everything they thought they knew about tablet cases. Providing stylish freedom and protection, and an upright display option for convenient viewing, the Sherpa iPad Air Carrying Case with shoulder strap gives users the hands-free solution they need on the go. The new Sherpa Air will be available November 20th, 2013, just in time for holiday shoppers.
The original Sherpa case was been deemed "A Lovely piece of craftsmanship", by Al Roker, and seen regularly on the Today Show. The new iPad Air carrying case has been modified to fit the new iPad Air, but still offers the same luxurious style and convenience. The Sherpa iPad Air cases features Infiniti Angle (Velcro display system with limitless angle options), convenient pocket pouch, stylus holder and the trademark Sherpa Shoulder Strap for convenient carrying.
"If you're constantly on the go, the Sherpa case was designed for you," says Jay McGinnis, founder of Sherpa Carry. McGinnis has crafted a shoulder strap carrying case for iPad products that gives customers the independence and convenience of having their mobile devices directly by their side without sacrificing style.
Sherpa Carry was awarded Top 25% Holiday Seller on Amazon for the 2012 holiday shopping season, and is sure to make an impact on this year's holiday shoppers. The new Sherpa iPad Air case shows how much Sherpa Cary has grown from a simple, one color iPad carrier into the best source for stylish and high quality iPad carrying cases. Sherpa Carry strives to develop two new products per year, and is evaluating expanding into other tablets for the year 2014. Sherpa cases can be found in Books-A-Million, inMotion Airport Stores, internationally at Tablet2Cases, and online at SherpaCarry.com and Amazon.com. The Sherpa Air will be for sale around November 20, 2013 at SherpaCarry.com, and will also be available on Amazon soon after.
About SherpaCarry.com
Sherpa Carry was founded in 2011 by Jay McGinnis. While working in the real estate field, McGinnis found the process of picking up and putting down his iPad between appraisal functions to be inconvenient. McGinnis quickly decided to design the Sherpa Cary iPad carrying case with shoulder strap. The core of their business is to provide hands free carrying solutions for all iPad products. Using only the finest materials and cutting edge designs, Sherpa Carry is producing the finest iPad carrying cases on the market. Their trademark design features a convenient shoulder strap, for hands-free mobility. Sherpa cases can be found at SherpaCarry.com or in many Books-A-Million stores around the country.