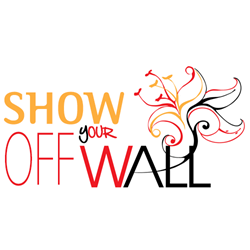 (PRWEB) November 20, 2013
Janice Hembree is pleased to announce the creation and launch of her new website venture, http://www.ShowOffYourWalls.com. The website offers a large assortment of wall art and decorations including wall decals, plaques, tin signs, and decorative plates. Ms. Hembree is someone who has always loved decorating and had a great deal of interest in decorating walls without having to change the paint color. "It's very interesting to me to see how just two or three changes in a room can make the whole room look different," Ms. Hembree stated. She wanted to provide likeminded customers with interesting ways to decorate their walls; she learned numerous times with her experience with the military to be excited about 'portable' decorating and wants to share what she has learned with others.
There are many excellent products featured within the merchandise of ShowOffYourWalls.com. Customers can browse through hundreds of unique designs for flat and 3D wall decals, as well as many tin sports signs and retro collectible signs that are perfect for a man-cave and are reminiscent of signs seen in sports bars. Also featured on the website are plaques of different sizes, angles, materials, and colors that also come in flat or 3D styles, in addition to decorative plates, some of which are collectible and unique for decorating.
In the future, Ms. Hembree plans to further expand the product lines offered at ShowOffYourWalls.com. She intends to add many more 3D wall decals, among other products. By periodically updating the site's merchandise, she hopes to encourage customers to keep coming back to check out what new items have been added. She also hopes to eventually be able to feature pictures of rooms with the actual products being used in those rooms, so that customers can have a better idea of what these items will look like in their own homes.
To complement the main website, Ms. Hembree is also launching a blog located at http://www.LookAtYourWallBlog.com. The blog will feature topics related to decorating in general. Ms. Hembree will talk about different decorations that she's seen in different places such as certain shops and will also talk about different decorating ideas and tips and how they would fit with the items that are prominently featured in the online store.
About the Company:
ShowOffYourWalls.com is owned and operated by Web entrepreneur Janice Hembree. Ms. Hembree will be donating portions of the products to charities including Healing Heroes Network, War Dogs, and No Kill Rescue.
****
Janice Hembree
http://www.ShowOffYourWalls.com
(618) 206-8207
iePlexus, Inc.
http://www.iePlexus.com