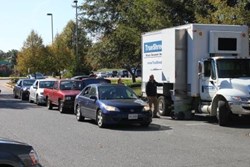 Woodbridge, VA (PRWEB) October 28, 2013
Belvoir Federal Credit Union hosted its Annual Community ShredFest event at the Woodbridge Branch where members and non-members attended the two hour event to shred their important documents.
ShredFest, which was open to the community, had 2 shredding trucks from TrueShred, music and a live feed provided by B101.5, a car show put on by Enterprise Car Sales, and giveaways. The event was well attended and served the community by helping to shred important documents rather than discarding them unsafely.
About Belvoir Federal Credit Union
Belvoir Federal is a member-owned, full-service financial institution that provides the foundation for the financial success of our Members. Belvoir Federal, a not-for-profit organization, has served the Fort Belvoir and U.S. Armed Forces community since 1946. For more information about Belvoir Federal, please visit http://www.BelvoirCreditUnion.org.
###