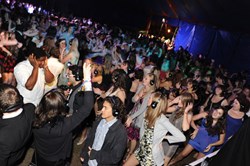 The funniest part is when you take off your own headphones and just watch a bunch of people bopping around, singing their hearts out, in a completely silent room. I couldn't stop grinning.
Ithaca, NY (PRWEB) December 28, 2013
Go Silent Disco, a blog that publishes information, news and media about silent disco events, compiled a list of 10 countries in Asia where a silent party has recently been held. Some of those listed include:
Japan
One of Japan's popular summer music festivals, "Summer Sonic", which takes place in the cities of Tokyo and Osaka, has made it a point to host an outdoor silent disco each year since 2010.
This year, the silent disco was accompanied by performances from famous International artists Rihanna, Gotye, Garbage and Green Day among others, along with many up-and-coming Indie bands.
Hong Kong
"I had never heard of such an activity before, but it turned out to be so much fun!" says Allison, an American and Hong Kong based blogger who attended her first silent disco party at Wo On Lane in Lan Kwai Fong. "The funniest part is when you take off your own headphones and just watch a bunch of people bopping around, singing their hearts out, in a completely silent room. I couldn't stop grinning."
Sri Lanka
This Electric Peacock Festival launched Sri Lanka's first silent disco this year where 2 DJs competed for listeners.
Festival Director Leah Bazalgette said, "silent disco marks Electric Peacock Festival apart from other music events that have taken place in Sri Lanka, and has been a brand new experience for all festival attendees."
Indonesia
The largest Indonesian cities have been hosting silent disco events in bars and music festivals for some time now. During the month of Ramadan, night clubs are requited to be shut down at 10 P.M.. The Tir Na Nog bar also known as "The Irish" located on the idyllic tropical island of Gili Trawangan, Lombok hosts a silent disco after shutting off loud music in order to stay open and let the party continue long after the official closing time.
India
The Indian Institute of Technology (IIT), Bombay's Techfest is a yearly technology festival that hosted the first ever silent disco at any college festival in India. The concept allowed IITians and students from Bangladesh, Egypt, Indonesia, Pakistan, Sri Lanka, Thailand and the UAE to enjoy music without violating the city's outdoor noise curfew of 10 PM.
According to the Techfest 2013 media and marketing manager Shrey Singh, silent disco combines technology and entertainment and allows youngsters to party for as long as and wherever they desire.
Malaysia
In 2008, Kuala Lumpur's Pavilion Mall hosted the first silent disco in Malaysia, dubbed '42 below' at a temporary club. The party setup, booming at the mall's entrance, included dual DJ sets and a huge visual screen. DJ Rob and DJ Goldfish offered attendees a choice between either House or Hip-Hop music. The simultaneous broadcasts are made possible by the dual-channel headphone system that uniquely allow users to toggle between two separate frequencies, each containing its own music style.
"Silent Disco feels a bit strange for the first hour as people come to grips with the lack of a big sound system – but as soon as people have had a few drinks the party kicks into full swing," notes DJ Rob.
About Party Headphones
Party Headphones, an Ithaca, NY based start-up helps people throw unforgettable silent disco events by providing the best wireless headphone systems available. The silent disco headphones have personal volume control, dual channel transmission and an LED indicator light to show who is listening to which channel. All systems are simple to use and connect easily to laptops, mixers, iPods and high-end stereo equipment. Visit http://www.PartyHeadphones.com for more information or to book an event. Go Silent Disco, a blog published by Party Headphones, is dedicated to regularly publishing articles, guides and music that help readers host a successful silent event.