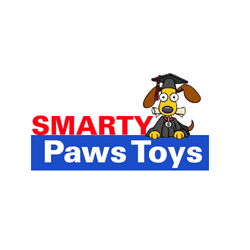 (PRWEB) November 20, 2013
Pat Keyser is excited to announce the creation and launch of her new website venture, http://www.SmartyPawsToys.com. The website offers a large variety of dog toys that dog owners will love to use when playing with their dogs. Keyser is a dog lover herself who currently has two dogs and wanted to offer good quality dog toys at reasonable prices to fellow dog lovers, having had plenty of experience with dogs and dog toys herself. Knowing that other websites tend to have smaller offerings of dog toys, Keyser was inspired to create a website that only focused on the toys.
There are many excellent products featured within the merchandise of SmartyPawsToys.com. The website carries a broad selection of chew toys, rope toys, plush toys, and ball toys. Some of the best brands in the industry are featured on the website including Kong, Grriggles, and Zanies products of all different types. Keyser has chosen only the best products from the top brands to offer on her website, so that her customers know that they are getting products of the best possible quality.
In the future, Keyser intends to further expand the product lines that are offered on SmartyPawsToys.com. She hopes to eventually include cat toys and other types of pet toys on the website as the site continues to grow. By periodically updating the merchandise available on the website, Keyser wants to encourage customers to keep coming back to the site to check out what new items have been added.
To complement the main website, Keyser is also launching a blog located at http://www.BrainyPetProductsInfo.com. The blog will feature topics related to why people purchase toys for their dog; Keyser will give reasons such as the ways that dog toys can provide tons of fun, hours of enjoyment, exercise for one's dog to keep them at a healthy weight, and how the toys are overall a good experience for the pet and the pet owner. She intends to talk about the different products offered in the online store and hopes to use the blog to guide customers towards making informed decisions when purchasing products from the website.
About the Company:
SmartyPawsToys.com – a division of PJK Online Enterprises, LLC – is owned and operated by Web entrepreneur Pat Keyser.
****
Pat Keyser
http://www.SmartyPawsToys.com
(301) 790-1007
iePlexus, Inc.
http://www.iePlexus.com