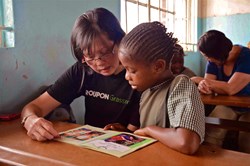 One hopes to do a little good, and Spark Ventures outdid themselves in clearing and making the way.
Chicago, Illinois (PRWEB) October 28, 2013
Spark Ventures, Groupon Grassroots, the philanthropic arm of Groupon, and Groupon Getaways, Groupon's destination for travel deals, are teaming up to offer 40 travelers an incredible Volunteer Vacation Getaway in Zambia. This partnership is the second of its kind after a similar initiative in 2012 was an immediate success. Through Groupon Grassroots,100% of the purchase of this deal will be passed directly to Spark Ventures.
The Spark Ventures Volunteer Vacation in Africa will be available on the Groupon Getaways page beginning October 29, running through November 14. With the purchase of the $2,449 Getaways voucher, Groupon subscribers have the opportunity to join a nine-day, all expenses paid trip to Zambia including time spent directly with children served by Spark Ventures' partner organization, an unforgettable safari in Botswana and a magnificent trip to Victoria Falls. The deal includes all in-country expenses including meals, lodging and local transportation. The two trips offered will take place January 19-27, 2014 and July 13-21, 2014, with space for 20 participants each. The Volunteer Vacation Getaway is the only one of its kind provided through this unique collaboration between Spark Ventures and Groupon Getaways.
The Spark Ventures Volunteer Vacation offers an unparalleled international volunteer opportunity to visit Spark's partner organization in Zambia and experience first-hand the sustainable development efforts going on through the partnership. This unique journey allows participants to join in cultural experiences, form new friendships, learn more about Spark's work and bond with the children that Spark and its partners support.
"Working with Groupon has brought incredible new people into the Spark network! We are excited to renew this partnership and bring an entirely new group of volunteers to Zambia to participate in our work," said Rich Johnson, Spark Ventures CEO. "Thanks to the 2012 Groupon deal, we were joined by travelers from across North America, who have since returned to become advocates and supporters of our model for sustainable development."
Lynne Blaszak from the first July 2012 Groupon trip shared her experience traveling with Spark: "One hopes to do a little good, and Spark outdid themselves in clearing and making the way. Go on this trip and marvel at how Spark 'comes alongside' their Zambian partners to do truly impactful work without disrupting the cultural fabric of a vibrant, challenging place. The deep interaction with staff, fellow travelers and of course, the children, was invaluable and transformative to me. I learned so much."
Interviews available with Rich Johnson, Spark Ventures CEO as well as former Groupon trip participants. Photography and B-roll footage available upon request.
About Spark Ventures
Spark Ventures is a Chicago-based nonprofit with international partnerships that provide children in poverty with nutrition, education and healthcare. Spark partners with grassroots organizations serving children in developing countries. Spark strengthens and sustains these partners by providing human resources, strategic guidance and financial capital. Together, Spark and its partners launch businesses, whose profits ensure meaningful impact for children and their communities for generations to come. The Spark Ventures vision is a future where all children have the opportunity and resources to achieve their potential. For more information on Spark Ventures, visit http://www.sparkventures.org.
About Groupon
Groupon (NASDAQ: GRPN) is a global leader in local commerce, making it easy for people around the world to search and discover great businesses at unbeatable prices. Groupon is reinventing the traditional small business world by providing merchants with a suite of products and services, including customizable deals, payments processing capabilities and point-of-sale solutions to help them attract more customers and run their operations more effectively. By leveraging the company's global relationships and scale, Groupon offers consumers incredible deals on the best stuff to eat, see, do, and buy in 48 countries. With Groupon, shoppers discover the best a city has to offer with Groupon Local, enjoy vacations with Groupon Getaways, and find a curated selection of electronics, fashion, home furnishings and more with Groupon Goods. To subscribe to Groupon emails, visit http://www.Groupon.com. To learn more about the company's merchant solutions and how to work with Groupon, visit http://www.GrouponWorks.com.
###
Spark Ventures Press Contact:
Stephanie Denzer
O: 773.293.6710
M: 913.593.4989
sdenzer@sparkventures.org
Groupon Press Contact:
Lily Gedney
O: 312.999.3056
lily@groupon.com