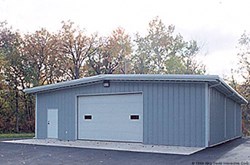 You sell a very good product and I would recommend Olympia Steel Buildings to anyone.
(PRWEB) October 17, 2013
Universal Steel Buildings, a leading supplier of steel buildings and prefabricated metal building systems for residential, commercial, industrial and farm use and sole supplier of Olympia Steel Buildings is standing by, ready to take new orders for steel buildings made for use as workshops and residential backyard shops.
"You sell a very good product and I would recommend Olympia Steel Buildings to anyone," states a happy Ohio building customer who recently purchased a twelve-hundred square foot building for use as a backyard shop. "I'm sure I will have many years of use and could not be happier. Thanks to all of you for your help."
Like all Olympia Steel Buildings, the buildings can be designed in almost any size you need and are maintenance-free. Olympia steel buildings also come with a 40-year paint warranty, a 25-year rust-through perforation warranty, stainless steel capped fasteners and galvanized girts and purlins, and they are delivered factory direct to your location ready for assembly.
"The customer was really impressed by the high quality of our building and how easy it was to put up," asserts senior sales manager, Mark Creighton. "The building color is an attractive sahara tan with fern green trim that looks really great on their property," states Creighton as he admires the photos of the completed building sent him by the customer. "The construction took only three days and the customer reported that the building fit together like a glove."
About Olympia Steel Buildings®
The Olympia Steel Buildings® is an industry leader in pre-engineered steel buildings for over 40 years, Olympia Steel Buildings are used in commercial, industrial, agricultural and residential applications and by government, military and civilian agencies. Olympia Steel Buildings come with their outstanding weather-resistant PBR roof, or you can opt for their patented Zeus-Shield® standing seam metal roofing system. GSA approved Olympia Steel Buildings set themselves apart by using better materials, better quality control, exceptional customer service and industry-leading warranties, including a 25-year rust through perforation warranty.
Olympia pre-engineered steel buildings are precision engineered and expertly erected to give you a "tight" building that reduces air infiltration into the building saving on HVAC costs. They offer 12 energy efficient colors for metal buildings to reduce cooling costs and come with a 40-year warranty against chipping, cracking, peeling or blistering. Because of such key features, Olympia pre-engineered steel buildings can qualify under LEED Green Building guidelines. For more information about Olympia Steel Buildings and what they can do for your construction project, visit their website http://www.olympiabuildings.com or call 888-449-7756.