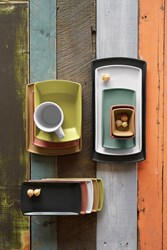 Setting a new trend in color and texture, Steelite once again unveils the latest in tabletop style with the exclusive Sedona Color Palette.
New Castle, PA (PRWEB) November 03, 2013
Modern and fun, Sedona is affordable yet beautiful, functional and friendly. With six gorgeous, inspired colors, choose one that mirrors the personality of your cuisine. Or mix and match hues to create a flavor that goes far beyond food. We invite you to discover the Sedona casual dinnerware range, a collection of colorful, stackable, and ultra-versatile dinnerware that marries fashion with function.

The Sedona Color Palette™ and proprietary satin matte finish works incredibly well with world cuisine, street food and traditional American classics
Broad range of creatively shaped items, from platters to tray to side dippers brings limitless possibilities to the tabletop
Smart, fun, elegant design by Steelite International, a world-leading manufacturer and supplier of award-winning tabletop ranges
Stackable for reduced storage space
Oven, Microwave and Dishwasher Safe