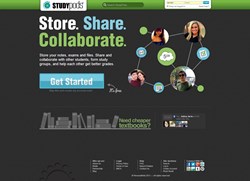 We bridge the gap between file storage, file sharing and group collaboration websites and combine all three into one social-learning platform
Tyler, Texas (PRWEB) August 27, 2013
PersonalWeb announced today the launch of its latest version of StudyPods®, a free social-learning platform created for college students to store their files, share content and collaborate on assignments with other students world-wide. Also included in StudyPods is a textbook price comparison tool, which locates the lowest priced textbooks for sale or rent from leading textbook vendors. The site was created with the help of students from The University of Texas System.
"With the new release, StudyPods also unveiled its new slogan, 'Store. Share. Collaborate.' because we bridge the gap between file storage, file sharing and group collaboration websites and combine all three into one social-learning platform," PersonalWeb President Michael Weiss said. "Using StudyPods, students can create online study groups to store and share anything and everything related to their classes, such as presentation slides, past tests, homework assignments, notes, lectures, and pictures."
Sporting a new and simpler user interface, StudyPods 3.0 also provides students with collaboration tools such as messaging, live chat, discussion boards, calendar events, and tasks, making it easier for students to connect with each other.
"This major overhaul of the StudyPods interface enables students to quickly and easily store and access their files and provides multiple ways for them to connect and communicate with their group," said Kamren Scott, PersonalWeb's director of marketing. "And the free 5GB cloud storage is one of the largest free storage spaces on the Internet, giving students access to all their information from any device."
StudyPods is one of many companies breaking into the emergent technology education industry as almost seven million students took online courses in 2012, according to The Sloan Consortium.
"The expansive collaborative features we've built into StudyPods serve the growing number of students taking online education courses, in addition to their on-campus classes, and facilitates knowledge sharing among students," Weiss said.
###
About PersonalWeb: PersonalWeb was established in Tyler, Texas by a team who has been responsible for creating some of the Internet's most popular software and applications used by millions of users. The company develops groundbreaking products based on its patented technology. PersonalWeb owns 15 fundamental patents for many important elements of cloud computing technology, distributed search engine file systems, social media and content addressable storage. For more information, please visit http://www.personalweb.com.