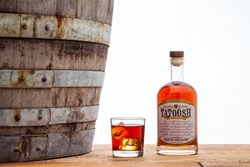 "We continuously strive to enhance our guests' overall experience by offering quality products to our guests. Tatoosh Bourbon has a clean taste and smoothness that we think will appeal to our guests who enjoy high-quality, craft beverages."
Seattle, Wash. (PRWEB) October 29, 2013
Tatoosh Distillery's signature bourbon has been selected by Holland America Line for its fleet of cruise ships in North America and beyond. The premium spirit, which borrows its names for a Northwest mountain range, is in its first year of distribution and is gaining attention from cocktail aficionados who appreciate quality spirits.
Tatoosh Bourbon will be featured in the cocktail lounges and dining menus on 15 Holland America line cruise ships on East and West coast routes. The craft bourbon is currently available on West Coast routes and will debut on East Coast-based ships in the coming weeks.
"Our brand is synonymous with the spirit of adventure. It evokes the clear crisp water of the Pacific Northwest and is a product meant to be savored with close friends and in pleasurable settings," said Tatoosh Distillery CEO Mark Simon. "Holland America Line is expert at delivering this experience and we are excited to be part of their premium spirits offerings."
Holland America Line selected Tatoosh Bourbon because of its quality and its Northwest roots, according to Gerald Mosslinger, director of beverage and signature services at Holland America Line.
"We continuously strive to enhance our guests' overall experience by offering quality products to our guests. Tatoosh Bourbon has a clean taste and smoothness that we think will appeal to our guests who enjoy high-quality, craft beverages."
About Tatoosh Distillery LLC:
Tatoosh Distillery is a spirits distillery company founded in 2009 and headquartered in Seattle. The company's focus is on the distilling and distribution of quality Northwest bourbon and Northwest whiskey to both domestic and international markets. Based on a 100 year-old recipe handed down through generations, Tatoosh Distillery is creating a new American whiskey tradition by infusing traditional whiskey recipes with Northwest's crisp clean water, and building brands based on the region's passion for entrepreneurial business and spirit of adventure. Tatoosh Bourbon is available at select bars, cocktail lounges, restaurants and retail outlets in the Pacific Northwest. For more information visit http://www.tatooshdistillery.com.
About Holland America Line [a division of Carnival Corporation and plc]:
Holland America Line's fleet of 15 ships offers more than 500 cruises to 415 ports in 98 countries, territories or dependencies. One- to 110-day itineraries visit all seven continents and highlights include Antarctica, South America, Australia/New Zealand and Asia voyages; a Grand World Voyage; and popular sailings to ports in the Caribbean, Alaska, Mexico, Canada/New England, Europe and Panama Canal. The line currently has a new ship on order from Fincantieri shipyard for delivery in February 2016.
Fleetwide, the company features Signature of Excellence enhancements, a commitment totaling more than $500 million, that showcase the Culinary Arts Center presented by Food & Wine magazine — a state-of-the-art onboard show kitchen where more than 60 celebrated guest chefs and culinary experts provide cooking demonstrations and classes — Explorations Café powered by The New York Times, Digital Workshop powered by Windows, teens-only activity areas and all new stateroom amenities highlighted by flat-panel TVs and plush Euro-top Mariner's Dream Beds.
World's Leading Cruise Lines
Holland America Line is a proud member of World's Leading Cruise Lines. Our exclusive alliance also includes Carnival Cruise Lines, Cunard Line, Princess Cruises, Costa Cruises and Seabourn. Sharing a passion to please each guest and a commitment to quality and value, World's Leading Cruise Lines inspires people to discover their best vacation experience. Together, we offer a variety of exciting and enriching cruise vacations to the world's most desirable destinations. Visit us at http://www.worldsleadingcruiselines.com.