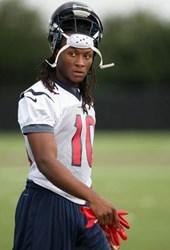 Houston, Texas (PRWEB) August 18, 2013
In their first preseason game of 2013, the Houston Texans beat the Minnesota Vikings 27-13. Rookies DeAndre Hopkins helped the team to victory as he showed off why he was a first round pick in the 2013 NFL draft, and the Texans cant wait to use him when it means something. One of Hopkins' great plays in the game was a first half 34-yard touchdown catch from quarterback TJ Yates. This pass was one that looked like no one would get, and yet somehow Hopkins converted it into a touchdown. Many rookies that come into the NFL need time to adjust, but it looks like Hopkins is already there, something the Texans are very happy about.
The Texans next preseason game will be against the Miami Dolphins on Saturday, August 17th. To buy tickets to this game, visit our Texans site at http://www.Texans-Tickets.net. The game will be played in Houston, as both teams are coming off a win in their first preseason games. The Dolphins played and beat the Jacksonville Jaguars last week, with a demolishing score of 27-3. Although just a preseason game, this will be an exciting game to attend, and might say a lot about the Texans for the upcoming season. Be there to experience all the action!
The Texans won the AFC South last year, and have made the playoffs in the past two seasons. This year, the Texans will be fighting for not just a division or conference win, but a Super Bowl championship. The Indianapolis Colts, who came in second to the Texans last year, will most likely end up being the Texans' biggest battle in the AFC South. Other important games for the team this year include ones against the reigning Super Bowl champs the Baltimore Ravens on September 22nd, the San Francisco 49ers on October 6th, a team that had a stellar 2012 season, and the New England Patriots on December 1st. To buy a ticket to these games and more, go to http://www.Texans-Tickets.net. Here customers can find the best prices to any Texans game. Prices are the best on the web because there are zero service fees! Texans-Tickets.net also wants to be there for every fan, so the customer service team is always available for assistance. Fans that go on the site can also use the Texans fan hub to participate on social media and chat with other fans. Go Texans!