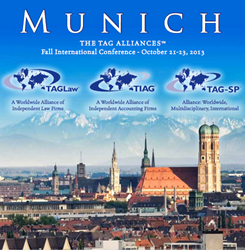 The relationships formed and deepened at our conferences are vital for our members and their clients...
St. Petersburg, Florida (PRWEB) October 22, 2013
The international alliance of independent accounting firms, TIAG® (The International Accounting Group), will hold its 21st international conference from October 21st through 23rd in Munich, Germany.
In addition to various networking opportunities and group breakout sessions, TIAG members will attend a variety of informative and educational sessions aimed at firm and practice development. Also in attendance at the conference will be members of TIAG's affiliate alliances, TAGLaw® and TAG-SP™. All three alliances are collectively known as the TAG Alliances™. Sessions and speakers at the conference include:

Cyber Security for Professional Service Firms; Presenter: Eric Sisi, Vice President of Customer Support & Services, McAfee International
Partner Performance and Remuneration; Presenter: Michael Roch, CEO, KermaPartners
Optimizing Your Practice: How to Improve the Quality of Your Firm's Work Product; Moderator: Dr. Kay Jess, Managing Partner, GGV Grützmacher / Gravert / Viegener (Frankfurt, Germany - TIAG & TAGLaw)
Making the most of Directory and Ranking Opportunities for the Independent Law Firm; Presenter: Catherine McGregor, Chief of Strategic Development, Lawdragon
Tax-Efficient Investments During the Financial Crisis; Presenter: Dmitry Zapol, International Fiscal Services Consultants, Ltd.
Strategies of the Serengeti; Presenter: Steve Berry, Fellow, CIMA
Cash is King!; Presenter: Howard Wilkinson; TIAG Advisory Board Member and Former Senior Partner of Mercer & Hole (London, England - TIAG)
Making Use of Your Multidisciplinary Alliance; Presenters: Andrew Wholey, Tax Consultant, Old Mill Accountants (Somerset, England, - TIAG) and Philip Jenkinson, Partner, Aubyn (Lille, France - TAGLaw)
Integrating Laterals; Presenters: Simon Chapman, Partner, Burgis & Bullock (Warwickshire, England - TIAG) and Quent Boyken, Shareholder, Belin McCormick (Iowa, USA - TAGLaw)
"Our conferences are known for our world-class speakers and sessions, but these gatherings also provide TAG Alliances members with the ability to build and maintain strong relationships with fellow members around the world," said Robert Sattin, President of the TAG Alliances. "The relationships formed and deepened at our conferences are vital for our members and their clients and allow the TAG Alliances to be ranked among the leading alliances of service firms in the world."
About TIAG and The TAG Alliances™
The TAG Alliances comprise three groups: TIAG (The International Accounting Group), TAGLaw and TAG-SP. TIAG is an international alliance of high quality, independent accounting firms. TAGLaw is a similar alliance of independent law firms, and TAG-SP is a complementary association of strategic business partners. Collectively, the TAG Alliances provide accounting, legal, financial and business support services on a worldwide scale. With approximately 12,500 professionals in 250 member firms, and 500 offices in over 90 countries, the TAG Alliances serve tens of thousands of clients from all industry and commercial sectors.
For more information about TIAG, visit http://www.TIAGnet.com.
For more information about the TAG Alliances, visit http://www.TAGAlliances.com.