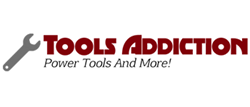 (PRWEB) November 27, 2013
Anthony Kosch is pleased to announce the creation and launch of his new website venture, http://www.ToolsAddiction.com. The website offers a broad selection of tools and equipment that can be used for various purposes. Kosch worked with NAPA Auto Parts for nearly forty years and subsequently gained a great deal of experience regarding different types of tools, on top of using tools for his own personal projects. He intends to use his experiences with tools to offer the absolute best quality tools and equipment to likeminded individuals.
There are many excellent products featured within the merchandise of ToolsAddiction.com. There are all sorts of items available from socket sets to power tools. The best brands in the industry are offered on the website such as Ingersoll Rand and Makita power tools, Channellock and Vice Grip hand tools, and many other well-known brands, so that customers can know that the products they are purchasing are of the highest possible quality. In the future, Kosch intends to further expand the product lines offered on the website. He plans to add larger equipment like hydraulic presses, air compressors, and engine hoists, as well as shop supplies like oil-absorbent towels and rags, work clothes, and air circulation fans. By periodically updating the merchandise offered on the website, Kosch hopes to encourage customers to keep coming back to check out what new items have been added.
Customer service is of the utmost importance to Kosch regarding each and every transaction made on ToolsAddiction.com. He has learned in his own business experiences how important customer service is, and intends to provide customers with a positive experience whenever they use his website. "Our motto is 'Good tools, good selection, good service,'" stated Kosch.
To complement the main website, Kosch is also launching a blog located at http://www.AllToolsBlog.com. The blog will feature topics related to the different products that are prominently featured in the online store. Kosch's overall goal with the blog is to help guide customers towards making informed decisions when purchasing products from his website.
About the Company:
ToolsAddiction.com -- a division of Hot Rod Marketing, LLC -- is owned and operated by Web entrepreneur Anthony Kosch.
Anthony Kosch
http://www.ToolsAddiction.com
(719) 346-5083
iePlexus, Inc.
http://www.iePlexus.com