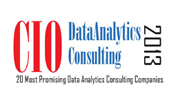 Chicago, IL (PRWEB) October 31, 2013
After choosing CBIG Consulting as a Top 20 Big Data Firm in 2013, CIO Review has again selected CBIG Consulting in its November listing, "20 Most Promising Data Analytics Consulting Companies."
In its profile of CBIG Consulting, CIO Review noted that the firm differentiates itself from more well-known, generic consulting groups by concentrating on BI/Big Data, consultants' professional experience (average 15 years), and continuous research and field-testing of advanced technologies. CIO also mentioned CBIG's continuous evolution of its core services to reflect the specific concerns of various industries. CBIG Consulting's President and spokesperson Todd Nash said, "Cutting-edge, vertical analytic processes to address industry-specific business intelligence needs are gaining a lot of traction for our customers right now. Our CBIG Life Sciences MDM™ solution, for example, allows our pharmaceutical customers to more efficiently integrate and qualify data from many sources, and then generate intelligence about their customers, their brand and their competition."
Nash stressed that CBIG's collaborative environment and in-house continuing education strategy are key factors in keeping the firm moving ahead of the data analytics curve. With regard to future innovations on the technology side, Nash said CBIG is currently developing and testing more industry-specific BI and Big Data solutions in health care and life sciences, finance and insurance, internet and technology, retail and CPG, utilities and telecommunications, higher education and not-for-profit, industrial manufacturing, and transportation.
Nash added that CBIG plans on rolling out more verticals in the next six months. CBIG has grown to six U.S. offices, as well as an Asia-Pacific Rim office over the past 12 months, and is continuing its plans to further expand CBIG's presence geographically and increase staff.
About CBIG Consulting (CBIG)
CBIG Consulting, a division of Chicago Business Intelligence Group, Inc., is an international team of experts in Data Warehousing, Business Intelligence, Big Data Analytics, and Cloud-based Analytics platforms. CBIG consultants average fifteen years of direct experience in the field working with global enterprises, mid-size businesses, and non-profit organizations in solving mission-critical reporting and analytical needs. CBIG operates from offices in the Chicago, IL, San Francisco, CA, Boston, MA, Denver, CO, Austin TX, and Sydney, NSW, Australia areas. For more information, please visit http://www.cbigconsulting.com.