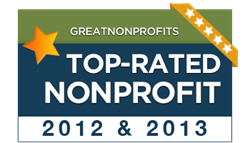 People with direct experience with TisBest have voted that the organization is making a real difference.
Seattle, Wash. (PRWEB) November 26, 2013
TisBest Philanthropy announced today that it has been honored with a prestigious 2013 Top-Rated Award by GreatNonprofits, the leading provider of user reviews about nonprofit organizations.
"We are excited to be named a Top-Rated 2013 Nonprofit," says Jon Siegel, Executive Director, TisBest Philanthropy. We are proud of our accomplishments this year, including the successful launch of DiscoverGiving, our classroom-based philanthropy program for elementary schools.
TisBest is the leading provider of donation gifts with their TisBest Charity Gift Cards.
The Top-Rated Nonprofit award was based on the large number of positive reviews that TisBest received – reviews written by volunteers, donors and clients. People posted their personal experience with the nonprofit. For example, one person wrote, "We sent TisBest cards to my parents for Christmas, and they loved them. A simple, meaningful gift that is deeply memorable."
A business customer wrote, "As the CSR Manager for a healthcare company we use TisBest cards as part of our giving program with our clients as well as at industry conferences. We have had nothing but great responses from those we gift with a TisBest card."
"Savvy donors want to see the impact of their donations more than ever," said Perla Ni, CEO of GreatNonprofits, "People with direct experience with TisBest have voted that the organization is making a real difference."
Being on the Top-Rated list gives TisBest Charity Gift Card purchasers more confidence that this is a credible organization. The reviews by volunteers, clients and other donors show the on-the-ground results of this nonprofit. This award is a form of recognition by the community.
About TisBest Philanthropy
TisBest Philanthropy is a 501(c)(3) nonprofit organization dedicated to fostering the growth of non-material gift-giving. TisBest created charity gift cards in 2007. Charity gift cards work like conventional gift cards, but with one important exception: the recipient of a charity gift card "spends" it by choosing a charity to receive the funds.
With a TisBest Charity Gift Card, you make the donation and your recipient decides how to spend the donation, choosing from TisBest's 300+ charity partners. Learn more at http://www.tisbest.org.
About GreatNonprofits
GreatNonprofits is the leading site for donors and volunteers to find reviews and ratings of nonprofits. Reviews on the site influence 30 million donation decisions a year. http://www.greatnonprofits.org