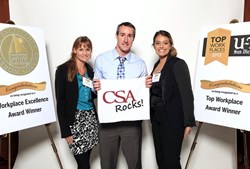 CSA was the only company chosen for this award that predominantly operates in the Department of Defense consulting industry.
San Diego, CA (PRWEB) November 18, 2013
Client Solution Architects LLC (CSA), a federal contracting company, was awarded a spot on U-T San Diego's List of 2013 Top Workplaces, ranked 7 in the medium-sized business category (100 to 349 employees in the region) voted on by CSA's employees. This is the first annual U-T San Diego Top Workplaces award program.
U-T San Diego partnered with Workplace Dynamics, an employee survey company, in an effort to find the best employers in San Diego. In all, 862 San Diego County companies were nominated and invited to participate, 64 of which completed the survey, for a total of 18,967 employees surveyed. To qualify, each company required at least a 35 percent employee response rate. This year's benchmark response rate was 57 percent, while CSA had more than 80 percent of its San Diego employees respond.
"This is CSA's first time participating in an employee based survey for San Diego, and to land in the 'Top Ten' medium-sized businesses is quite an accomplishment for this 10-year-old company," said Brian Keller, Director of Operations, San Diego. "Interestingly, CSA was the only company chosen for this award that predominantly operates in the Department of Defense consulting industry, which differentiates us from the other companies in our field. Thank you to all CSAers who 'Do Great Things' year after year."
Employees were asked to respond to questions that focused on two main workplace areas: 'Organizational Health' and 'My Job.' 'Organizational Health' explored employees' input on connection, direction and execution of their company, while 'My Job' was focused on an employee's work, managers, pay and benefits. For more information and to view the official results, please visit U-T San Diego's Top Workplaces 2013.
ABOUT CSA:
CSA is a professional services firm providing strategic guidance and operational performance solutions to government and commercial clients. CSA helps clients achieve their goals by enhancing organizational performance and maximizing return on investments. CSA helps clients plan and execute processes associated with Project and Portfolio Management, Acquisition and Program Management, Contracts Management, Business and Financial Management, Logistics and Supply Chain Optimization and Business Improvement and Analytic Services. CSA delivers services by combining deep process expertise with strong program management disciplines, analytics and a focus on performance results.