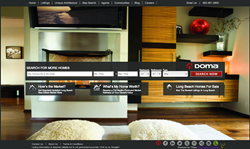 "We were ecstatic to see one of our very own receive the best company website," commented Eric Stegemann, TRIBUS Director of Strategy.
Chicago, IL (PRWEB) October 18, 2013
REALTOR® magazine, the official magazine of NAR (National Association of Realtors) recently announced the "Best of the Web 2013: Real Estate Sites" in its September/October 2013 issue. Long Beach real estate brokerage DOMA Properties received the award of best real estate website in the country for the company category. TRIBUS, a real estate technology company, is the company behind the conception and implementation of the website.
REALTOR® magazine recently released its "Best of the Web 2013: Real Estate Sites" in its September / October 2013 issue. Categories were broken up into a variety of categories, including best individual agent website, best team website, and best company website.
"We were ecstatic to see one of our very own receive the best company website," commented Eric Stegemann, director of Strategy at TRIBUS. Stegemann went on to explain that the entire concept behind DOMAProperties.com was keeping a simplistic and minimalistic aesthetic, without sacrificing any type of functionality or user experience.
The article in REALTOR® magazine only emphasized this concept by citing "The clean, minimalistic layout gives more attention to the IDX home search bar than the company name or logo."
Nick Resendez, Sales Manager at DOMA Properties explained: "When DOMA Properties set out to create a new website, I looked at a lot of different real estate sites from the national franchises to mom and pops, as well as Zillow and Trulia. It was very clear to me that when people go to a real estate site they want to see real estate. That is why we worked with TRIBUS to create a website that featured a prominent floating search bar surrounded by links to the features consumers want most. This was set on a large beautiful background image to represent the style our company uses in marketing. The website has received great feedback not only internally, but also with past, current, and prospective clients. We are extremely pleased that we were able to work with TRIBUS on the project."
Stegemann reinstated this very important component by explaining: "When people are searching for a home, they want the experience to be as simple and straightforward as possible. If you force the user to think too much, they'll leave the site and locate one that provides easier search functionality."
"It's such a great honor to see DOMA recognized for their website. They are an outstanding brokerage specializing in Long Beach, CA real estate and their website only begins to showcase their in-depth knowledge of not only the market, but also what home buyers and sellers are really looking for in a real estate agent and brokerage," said Stegemann.
About DOMA Properties:
DOMA Properties specializes in providing full-service residential real estate services throughout the city of Long Beach and wanted to ensure that the website provided the most efficient and enjoyable experience possible to the end user.
About TRIBUS:
TRIBUS provides a suite of real estate technology services to both real estate agents and brokerages via their integrated CRM (Customer Relationship Management) systems and both semi-custom and fully custom websites. In addition, the company provides robust online marketing and coaching and training programs, ensuring that clients are set-up to succeed online from day one.