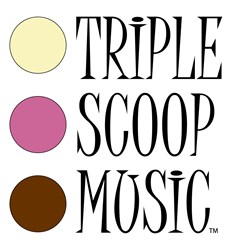 "We help companies around the globe grow their businesses and supercharge their marketing with award-winning songs & soundtracks."
Los Angeles, California (PRWEB) October 29, 2013
How do you make music licensing easier, faster and affordable for creative professionals around the globe?
That's exactly what the founders of Triple Scoop Music set out to do. Founded in 2006, this Los Angeles based company has grown from scrappy startup to the world's leading music licensing service for Photographers, Event Filmmakers and Videographers.
"We love helping companies around the globe grow their businesses and enhance their marketing with award-winning music." explains Triple Scoop Music's CEO and Co-Founder Roy Ashen. "We've simplified music licensing for Photographers and Event Filmmakers. Now we're thrilled to launch easy and affordable options for an even wider range of customers. Our new music licenses cover Small Business, Non-Profit Groups, Corporate projects, Educational videos and more."
Renowned photographer and best-selling author Scott Kelby says, "I'm a fan of Triple Scoop Music. As a musician myself, I am just so impressed with the quality of their service — their music is the real deal!" Kim Komando from USA Today writes, "Search tools allow you to filter songs by mood, tempo, style or a theme. You can find the perfect, affordable music in no time."
"We believe every business deserves world-class music." adds Ashen. "Every single artist, song and soundtrack is hand-picked to supercharge the emotion and energy of your videos, slideshows and media projects. There are over 15,000 incredible songs available and we add fresh new music monthly."
Along with new music license options, Triple Scoop Music has built an impressive list of custom licensing partners and clients that includes Adobe, Microsoft, Hugo Boss, Harley-Davidson, Animoto, Intel, Roxio, YouTube, Zenfolio, CreativeLIVE and others. Custom licensing projects range from product videos and TV commercials to customized music integration for mobile apps, photo sharing and subscriber services.
Triple Scoop Music licenses music for:
+ Professional Photographers
+ Event Filmmakers and Videographers
+ Small Business
+ Corporate Video
+ Non-Profit Videos
+ Indie Films and Film Festivals
+ Government Video
+ Educational Videos and Slideshows
+ Real Estate
+ Social Media videos (YouTube, FaceBook, Twitter, Instagram, Tumblr)
+ Mobile Apps & Games
+ Websites and Subscription Services
+ TV and Feature Film
Learn more and find the perfect song or soundtrack for your business at http://TripleScoopMusic.com.