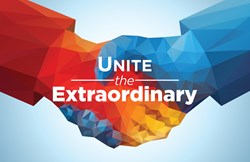 We have inspiring speakers, many chances to interact, to share best practices and to collaborate and help our network build their businesses.
Scottsdale, AZ (PRWEB) October 16, 2013
TTI Success Insights® (TTISI) will host its annual conference January 19-23 at Radisson Fort McDowell Resort & Casino, John Hersey, interim president of TTI Success Insights North America, announced today. The theme for the conference is "Unite the Extraordinary," a tribute to the energy produced when TTISI's network members from around the globe gather to communicate, collaborate and inspire one another. The gathering will launch the yearlong celebration of 30 years of Target Training International, Ltd. (TTI), which was founded in 1984 by Bill J. Bonnstetter and Dave Bonnstetter.
"We are so excited to welcome network members and guests to our annual conference this year," said Hersey. "I know they will enjoy the conference in this pristine Sonoran Desert setting. We have inspiring speakers, many chances to interact, to share best practices, to collaborate and help our network build their businesses."
The conference this year will be located for the first time at the Radisson Fort McDowell Resort and Casino, which is nestled in the heart of the desert and surrounded by vistas of the McDowell Mountains, Four Peaks and the Red Mountains. Conference events will make the most of this unique setting, with outdoor meals, events and opportunities to gather and relax.
The keynote speaker for the conference is Whit Mitchell, founder and CEO of Working InSync International, and an executive coach, team dynamics expert, author and professional speaker. Using a method called Inner Circle Coaching, Mitchell helps individuals and teams work more effectively, develop a system for success, and discover ways to build better relationships both inside and outside their organizations. Mitchell has also worked with top executive development programs at Tuck School of Business at Dartmouth University, Harvard University and Columbia University. His work with athletes and coaches includes the U.S. Olympic Rowing Teams, Dartmouth College, The United States Coast Guard Academy and The University of New Hampshire. Mitchell is also the author of "Working in Sync," an accounting of his coaching of the 1986 Dartmouth crew and how their rowing experience propelled them to professional success.
During the conference, TTISI will bestow its annual awards to its network membership.
Conference participants must be members of the TTISI network, which is operating in 90 countries and 40 languages. To register for the conference or learn more, visit http://www.ttisicon.com. Highlights from conference events will be tweeted at #ttisicon.
About TTI Success Insights
Dedicated to making organizations better through the design, education and implementation of assessment-based talent management solutions, TTI Success Insights maximizes the performance and satisfaction of employees, while increasing business results for corporations around the world. With its validated, EEOC compliant assessment tools that are free from adverse impact, TTI Success Insights operates through a global distribution network of independent consultants, coaches, speakers, trainers and strategic partners. Serving a domestic client base of Fortune 1000 companies, its international clientele exist in 90 countries worldwide. For more information call 800-869-6908 or visit ttisuccessinsights.com and ttiresearch.com.