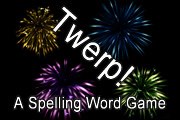 Twerp! is a fun way to build vocabulary and improve spelling. It offers a fast-paced, addictive, original, and unique spelling competition.
Vancouver, BC (PRWEB) September 08, 2013
Twerp! A Spelling Word Game for Android offers fun and competitive multiplayer gameplay helping players learn to spell difficult words and improve their vocabularies.
Twerp! is a competitive multiplayer spelling app, for two to four players on the same smartphone or tablet, produced by Vancouver-based mobile software developer Anachronic Designs. The game challenges players to choose the correct spelling of obscure and difficult words, such as 'flabbergasted' and 'curmudgeon' as fast as possible. Players with the most correct answers earn the highest points and win the game!
Twerp! is a fun way to build vocabulary and improve spelling. It offers a fast-paced, addictive, original, and unique spelling competition. A free version supports two players, and a $1.99 version accommodates three and four players with five times as many words. Twerp! works on Android devices and is available from the Google Play market. A version for iPhones and iPads will be available soon.
Tired of spelling? Tweek! is a free numbers and memorization game also available for Android. Integrated with the popular Heyzap gaming social network, Tweek! allows players to play solo as well as compete for best scores against fellow gamers and competitors around the world. With this brain trainer players can improve their memory, focus, and speed. Tweek! players may also enjoy Got Time For That? a free collection of mini-games made by AD for the Ludum Dare 72 hour game jam.
While new Android games offer players plenty of opportunity to train their brains, everyone needs to relax sometimes. To encourage relaxation, AD recommends Sad Paddle, a single-player Pong-inspired arcade game that challenges players to compete against themselves and best their high scores. With a new twist on classic arcade gameplay, rain, thunder, lightning, and particle effects, Sad Paddle is a unique audio-visual experience currently available free for Android devices through Google Play. The $0.99 deluxe version adds piano music, infinite mode, and multiple other options including the colorful "Super Secret Purple Party Mode." According to AD's lead developer, Sad Paddle is "a post-post-modernist retro video gaming experience that exemplifies the classic man/woman versus himself/herself conflict and challenges modern notions of what it means to win and to score, all presented in a compelling monochrome palette."
According to the developer, AD is currently working on several new digital entertainment and edutainment projects scheduled for completion this fall/winter and throughout 2014.
Recent news on new AD mobile game developments is available from the developer's website.
Anachronic Designs (AD) is a one-person software developer producing entertainment and educational products for desktop and mobile platforms in their spare time. Current digital download products include the multiplayer title Twerp! A Spelling Word Game, Tweek! a free memory and focus brain-trainer, Got Time For That? a free mini-game collection, and Sad Paddle a Pong-inspired arcade game.