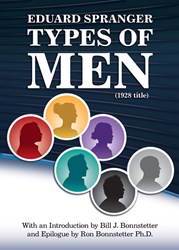 "I wonder if Spranger would have believed it would be possible to go under the skull to examine how his theories of what we are could be verified at such an intrinsic level."
- Ron J. Bonnstetter, PhD., author of epilogue to "Types of Men"
Scottsdale, Ariz. (PRWEB) September 10, 2013
"Honor the past, but welcome the future," the poet ee cummings wrote. Target Training International, Ltd. (TTI) does both with the re-issuing of the 1928 book "Types of Men" by Eduard Spranger. Anyone who has ever taken a behavior/motivator assessment in their workplace is likely to have been exposed to Spranger's theories. These theories are the basis of TTI's motivators assessment, which is at work in companies in 90 countries and 40 languages.
"While our everyday lives have changed drastically since the 1920s, the motivations behind human behavior have not," said Bill J. Bonnstetter, chairman of TTI and author of "The Universal Language of DISC." "Spranger's book was groundbreaking at the time, and his philosophies have stood the test of time and helped generations of individuals better understand the things that motivate them in every aspect of their lives."
Spranger (1882-1963) was a German philosopher and psychologist who detailed the science behind the value and attitudes portions of personality theory. Spranger's work laid the foundation for today's commonly used values/motivators — theoretical, aesthetic, individualistic, social, utilitarian and traditional. These motivators are assessed as part of TTI's suite of assessment tools for selection, retention, employee development and coaching.
Bonnstetter wrote an introduction to the re-released text, explaining how he put Spranger's pioneering psychology theories to work in the world's corporations. (the term "men" was considered universally encompassing of men and women at the time the theory was developed.) Ron J. Bonnstetter, Ph.D. contributed an epilogue updating the text and explaining how recent brain research further validates Spranger's early theories.
Last September, TTI re-issued William Moulton Marston's book "The Emotions of Normal People" (1928), which created the über-popular and influential DISC (Dominance, Influence, Steadiness, Compliance) theory, used in nearly all areas of business and life.
These books, paired with the publication of the book "Talent Unknown" by Bill J. Bonnstetter and Ashley Bowers, completes a set of new publications marking the 30th anniversary of TTI.
To order, visit http://www.amazon.com/Types-Bonnstetter-Ronald-Eduard-Spranger/dp/0970753136/ref=sr_1_2?s=books&ie=UTF8&qid=1378762092&sr=1-2&keywords=types+of+men+eduard+spranger.
About Target Training International, Ltd.
Target Training International, Ltd. has been pioneering research into superior performance since 1984, providing cutting edge insights into human behavior, communication and workplace attitudes and performance. TTI is the world's leading developer of research-based, validated assessment and coaching tools that enable Fortune 500 companies to effectively meet their human resources needs. Its related company, TTI Success Insights, puts assessments and reports to work in more than 90 countries and in 40 languages. TTI develops thought leadership in the realms of brain science, entrepreneurism, education and human interaction. For more information, go to http://www.ttiresearch.com, connect @ttiresearch or call 800-869-6900.