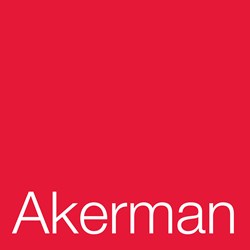 Akerman has brought together an esteemed panel and is pleased to be a leader in the ongoing discussions surrounding Latin America. - Luis O'Naghten, Chair, International Litigation & Arbitration Practice
MIAMI (PRWEB) October 23, 2013
General counsel, senior executives and compliance officers representing public and private sectors from across the Americas will convene at the inaugural U.S. Latin America Legal Summit, presented by American Lawyer Media (ALM) and Akerman Senterfitt, to engage in peer-to-peer discussions about the most challenging issues affecting U.S. and Latin American businesses. Akerman, a leading national law firm in cross-border disputes, transactions and tax matters, will present a discussion on Miami as a rising center for international disputes.
Luis O'Naghten, chair of Akerman's International Litigation and Arbitration Practice will lead the conversation. The panel will include Leidylin Contreras, Deputy Counsel with the Office of Legal Counsel to the President, Dominican Republic; Josefa Sincard Mirabel, North America Director of Arbitration and Alternative Dispute for the ICC International Court of Arbitration; John Rooney, Attorney at Law; and Angelica Nuñez-Anico, Director of Legal Affair of Stream LNG (Repsol-GasNatural Fenosa). The group will examine the increase of international litigation and arbitration in recent years and Miami's emergence as a venue for dispute resolution. Speakers will measure the use of international arbitration as an alternative to managing business risks in Latin America, as well as the importance of Florida adopting the UNCITRAL Model Law.
"Akerman is on the frontline of some of the most complex disputes in Latin America," said O'Naghten. "As cross-border deals continue to surge across the region, we have seen arbitration become an increasingly popular method of dispute resolution for both commercial and investor-state issues. Akerman has brought together an esteemed panel and is pleased to be a leader in the ongoing discussions surrounding Latin America."
A series of conversations will follow throughout the day. Legal leaders will examine the volatility of the market, including the political and economic scenes, as well as effective legal strategies for businesses under various foreign jurisdictions, such as those involved in complex transactions, trade agreements, compliance issues. Among the list of speakers are:

Jaime Blanco, Director, International Compliance and Business Development, Latin America, W.W. Granger, Inc.
Catherine Jones, General Counsel, Virgin Mobile Latin America
Glenn S. Gordon, Associate Director for Enforcement, SEC - Miami Regional Office
Mona M. Clayton, Partner, Latin American Forensic Services, PricewaterhouseCoopers LLP
Pilar Caballero, Partner, Latin American Forensic Services, Ryder System, Inc.
Roberto Berry, General Counsel Latin America, Global Compliance and Training, Delphi
Keith M. Rosenn, Chair, Inter-American and U.S. Transnational Program, University of Miami School of Law
Lisa Landy, General Counsel, Pescanova
The day-long event will take place on October 30, 2013 at the Ritz Carlton Coconut Grove in Miami. For more details about the Summit or to register, visit http://www.corpcounsel.com/uslatamlegalsummit
Akerman represents multinational clients on a wide range of cross-border mergers & acquisitions, joint ventures, securities offerings, syndicated and secured lending transactions, project financings, and debt restructurings, as well as complex construction and other international disputes throughout Latin America and the Caribbean. We also represents numerous global companies in connection with establishing and developing their U.S. presence as well as managing their Latin American operations.
About Akerman Senterfitt
Akerman is a leading transactions and trial law firm known for its core strengths in middle market M&A, within the financial services and real estate industries, and for a diverse Latin America practice. With more than 550 lawyers and government affairs professionals and a network of 19 offices, it is ranked among the top 100 law firms in the United States by The National Law Journal NLJ 250 (2012). Akerman also is ranked among the top 100 law firms for diversity by MultiCultural Law magazine (2012) and recognized as the Law Firm of the Year for Diversity – South by Benchmark Litigation (2012). More information can be found at akerman.com or twitter.com/akerman_law.
About ALM
ALM is a global leader in specialized business news and information. Trusted reporting delivered through innovative technology is the hallmark of ALM's award-winning media properties, which include Law.com (http://www.law.com), The American Lawyer, Corporate Counsel, The National Law Journal and The New York Law Journal. Headquartered in New York City with 16 offices worldwide, ALM brands have been serving their markets since 1843. For more information, visit http://www.alm.com.